Culinary Comics & Gourmand Graphics
Posted on:

30 March 2021

By:

Jon Schafle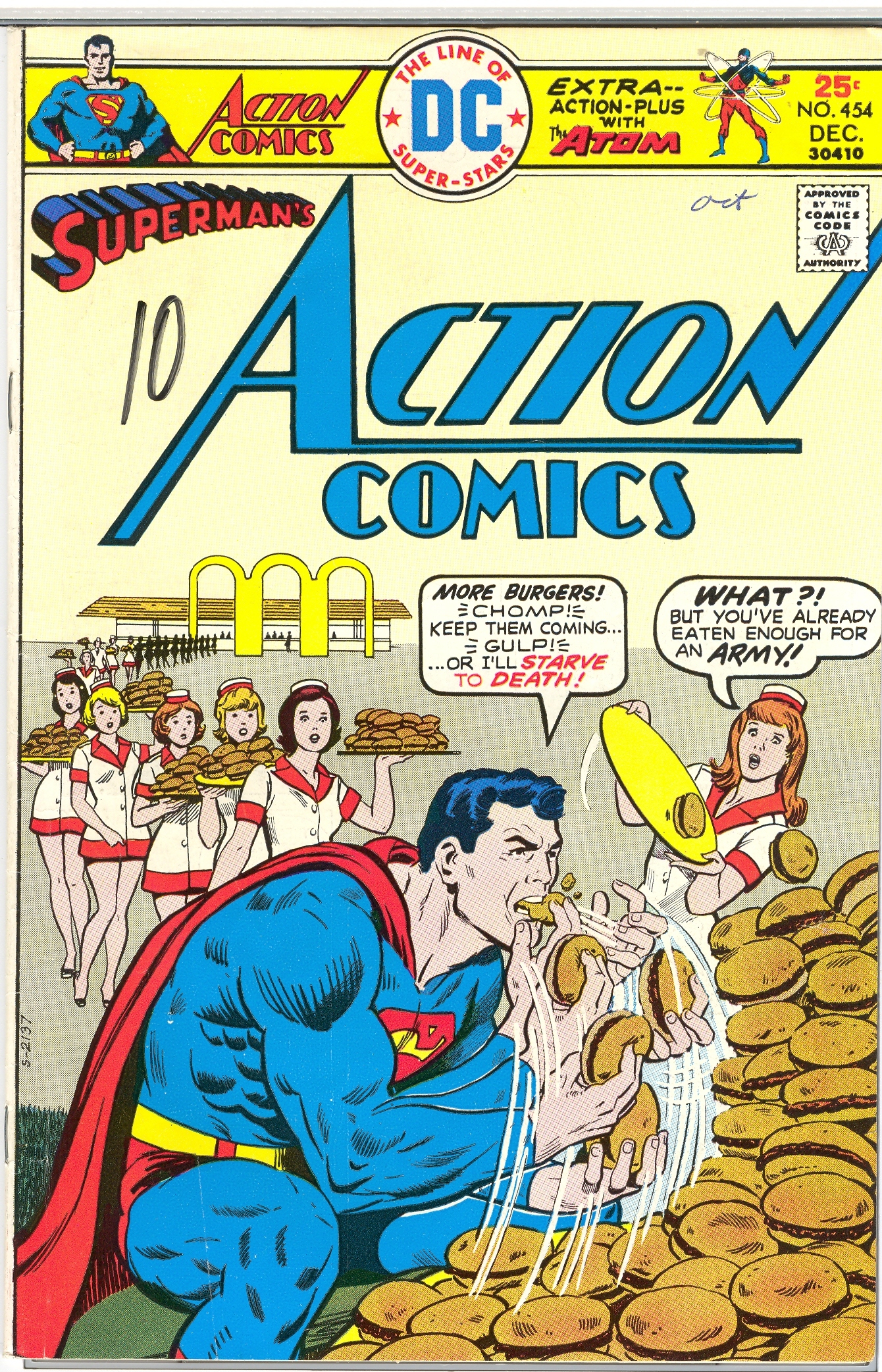 Hungry for something good to read? A glutton for comics and graphic novels? Today I'm cooking up some of my favorite foodie books throughout all three of our graphic collections to satisfy even the most discerning appetite.
Juvenile
Apocalypse Taco by Nathan Hale
A sinister drive-through threatens to end the world—and three kids in a beat-up truck are humanity's only hope! It's the night before dress rehearsal, and the school theater troupe is working late and very hungry. Eleven-year-old twins Axl and Ivan—along with their sixteen-year-old driver, Sid—volunteer to make a late-night fast-food run. At the drive-through, their tacos start to . . . move. And they don't seem friendly. Even after they get rid of the food, the world around them isn't quite right. There are strangely moving cars, buildings, and people—and they seem intent on swallowing everything in their path. Now the trio will have to use their wits, their truck, and even their windshield scraper to escape...before they're replaced by monstrous versions of themselves!
Chef Yasmina & The Potato Panic by Wauter Mannaert & Montana Kane
A young chef is the only one who can protect her town from an onslaught of scientifically enhanced, highly addictive potatoes. Yasmina isn't like the other kids in her city. She might be an oddball, but no one can deny that Yasmina has a flair for food. All she needs to whip up a gourmet meal is a recipe from her cookbook and fresh vegetable form the community garden. But everything changes when the garden is bulldozed and replaced with a strange new crop of potatoes. Her neighbors can't get enough of these spuds! And after just one bite their behavior changes--they slobber, chase cats, and howl at the moon. What's the secret ingredient in these potatoes that has everyone acting like a bunch of crazed canines? Yasmina needs to find a cure, and fast!
The seven kingdoms of Dreamside need a legendary hero. Instead, they'll have to settle for Cucumber, a nerdy magician who just wants to go to school. As destiny would have it, he and his way more heroic sister, Almond, must now seek the Dream Sword, the only weapon powerful enough to defeat Queen Cordelia's Nightmare Knight. Can these bunny siblings save the world in its darkest hour...? Sure, why not?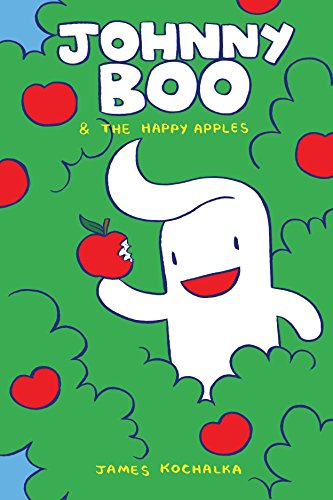 Johnny Boo & The Happy Apples by James Kochalka
In this adventure, Johnny Boo has been eating a little too much ice cream, and now his muscles have gotten all floppy and droopy. Why, they're positively floopy! Meanwhile, our friend the Ice Cream Monster has changed his gluttonous ways and now has big strong muscles, thanks to his new favorite food: apples! Terribly embarrassed by his own puny muscles, Johnny Boo sets out on a quest to find some happy apples that can give him strong happy muscles. But it won't be easy... especially if the Ice Cream Monster mistakes him for a delicious ice cream cone! And is that a television inside the monster's belly!?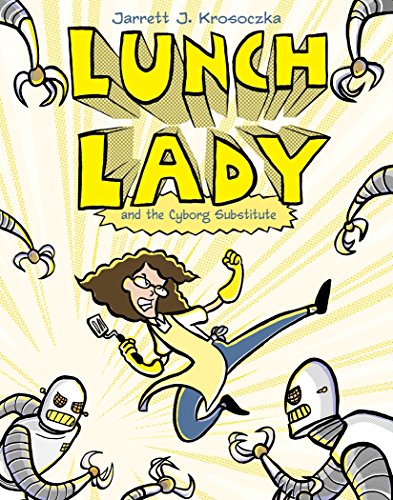 Lunch Lady by Jarrett J. Krosoczka
The school lunch lady (known as just "Lunch Lady") is a secret crime fighter who uncovers evil plots. Hector, Terrence, and Dee are three school children in on her secret, and help her out whenever they can.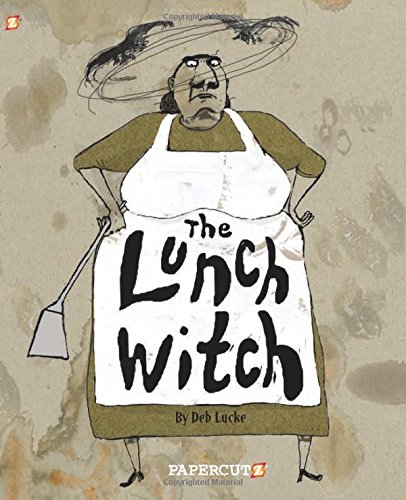 For generations and generations, the women of Grunhilda's family have stirred up trouble in a big, black pot. Grunhilda inherits her famous ancestors' recipes and cauldron, but no one believes in magic anymore. Despite the fact that Grunhilda's only useful skill is cooking up potfuls of foul brew, she finds a job listing that might suit her: lunch lady. She delights in scaring the kids until she meets a timid little girl named Madison with a big set of glasses who becomes an unlikely friend. Madison needs help at school and at home, but helping people goes against everything Grunhilda believes in as a witch! Will this girl be able to thaw the Lunch Witch's icy heart? Or will Grunhilda turn her back on a kindred spirit?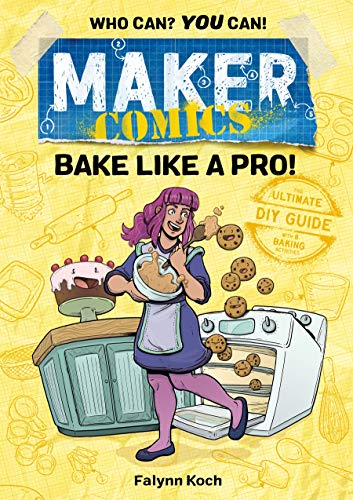 Maker Comics: Bake Like a Pro by Falynn Koch
You can bake like a pro- and it's easier than you think! Today is the first day of Sage's magical internship! Her fellow wizards-in-training get to study pyromancy and transfiguration, but Sage has been assigned an internship in ... baking? She doesn't think that sounds fun, or particularly magical! But her instructor, Korian, insists that baking is a tasty form of alchemy. In an enchanted kitchen where the ingredients insist that you eat them, Sage learns the simple science behind baking-- and that's the best kind of magic trick!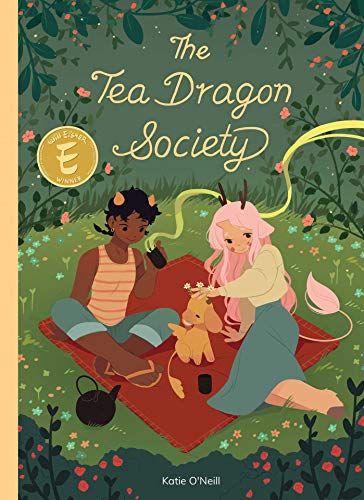 Tea Dragon Society by Katie O'Niell
Greta, a blacksmith apprentice, and the people she meets as she becomes entwined in the enchanting world of tea dragons. After discovering a lost tea dragon in the marketplace, Greta learns about the dying art form of tea dragon care-taking from the kind tea shop owners, Hesekiel and Erik. As she befriends them and their shy ward, Minette, Greta sees how the craft enriches their lives--and eventually her own.
Young Adult
Kitchen Princess by Natsumi Andō & Miyuki Kobayashi
Najika is a gifted cook and attends the prestigious Seika Academy cooking school. Her friendship with two brothers, Sora and Daichi, creates resentment with other girls at the school. Her greatest rival is a popular, teen model, Akane who tries to drive Najika from the school by staging a cooking contest.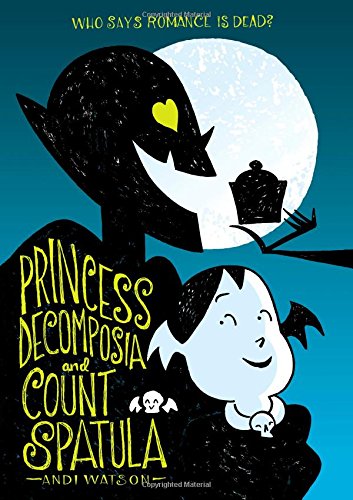 Princess Decomposia & Count Spatula by Andi Watson
Decomposia, overworked and underappreciated, runs the underworld for her layabout father but when she hires Count Spatula, a vampire with a sweet tooth, as the new chef, he not only helps straighten out her life, he may become more than a friend.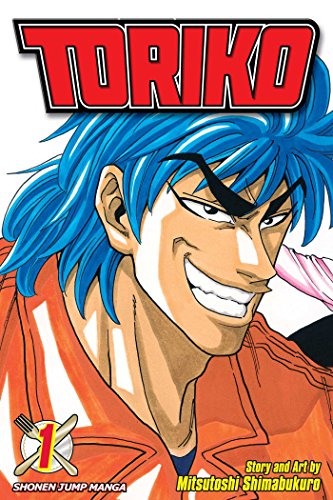 Toriko by Mitsutoshi Shimabukuro
Gourmet Hunter Toriko! This is the great era of gourmet food! And only Toriko can hunt down the ferocious ingredients that supply the world's best restaurants. As a gourmet hunter, Toriko tracks and defeats the tastiest and most dangerous animals with his bare hands.
Adult
Chew by John Layman & Rob Guillory
Tony Chu is a detective with a secret. A weird secret. Tony Chu is Cibopathic, which means he gets psychic impressions from whatever he eats. It also means he's a hell of a detective, as long as he doesn't mind nibbling on the corpse of a murder victim to figure out whodunit, and why. He's been brought on by the Special Crimes Division of the FDA, the most powerful law enforcement agency on the planet, to investigate their strangest, sickest, and most bizarre cases.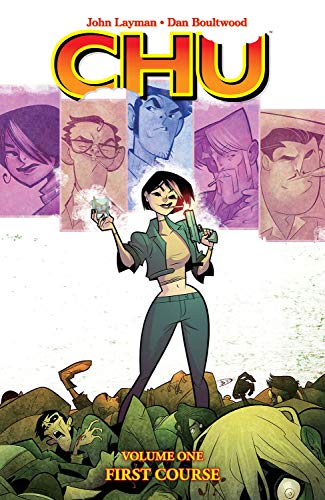 Chu by John Layman & Rob Guillory
Tony Chu is a cibopath, able to get psychic impressions from what he eats. Saffron Chu is a cibopars, able to learn secrets from who she eats with. Tony is a cop. Saffron is a criminal. They are brother and sister, and they are on a collusion course. Spinning out of the Eisner awarding winning and New York Times best-selling series CHEW comes CHU, a felonious new food-noir about cops, crooks, cooks, & clairvoyants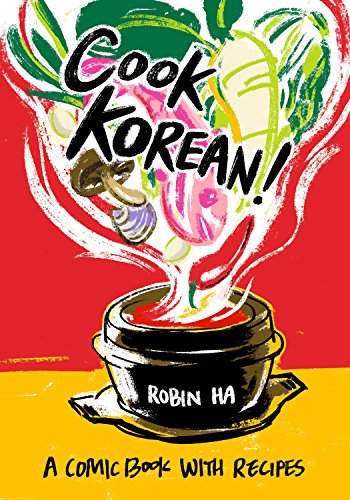 A charming introduction to the basics of Korean cooking in graphic novel form, with 64 recipes, ingredient profiles, and more, presented through light-hearted comics. Playful and instructive, Cook Korean! is the intersection of cookbook and graphic novel in one easy-to-use package dedicated to this increasingly popular Asian cuisine. Illustrator Robin Ha presents colorful, humorous comics that fully illustrate all the steps and ingredients necessary for all 64 recipes in a clear, concise presentation (with no more than 2 pages per recipe on average). Recipes featured include Easy Kimchi (Makkimchi), Spicy Bok Choy (Cheonggyeongche Muchim), and Seaweed Rice Roll (Kimbap), among many other dishes. Each chapter includes personal anecdotes and cultural insights from Ha, providing an intimate entry point for those looking to try their hand at this cuisine. Perfect for beginners and seasoned cooks alike, Cook Korean! is accessible, fun, and inviting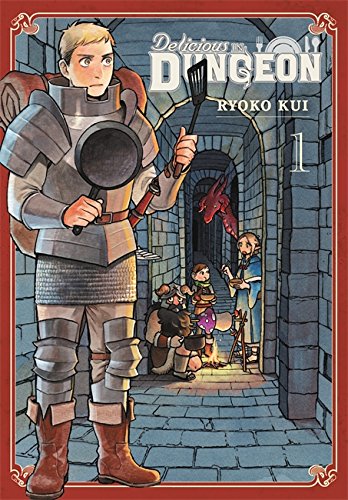 Delicious in Dungeon by Ryoko Kui
After getting his sister devoured by a dragon and losing all their supplies in a failed dungeon raid, Lyos and his party are determined to save his sister before she gets digested. Completely broke and having to resort to eating monsters as food, they meet a dwarf who introduces them to the world of dungeon meshi, delicious cuisines made from ingredients such as the flesh of giant bats, walking mushrooms, and screaming mandrakes.
Get Jiro by Anthony Bourdain, Joel Rose, Ale Garza & Jose Villarrubia
In a not-too-distant future L.A. where master chefs rule the town like crime lords and people literally kill for a seat at the best restaurants, a bloody culinary war is raging.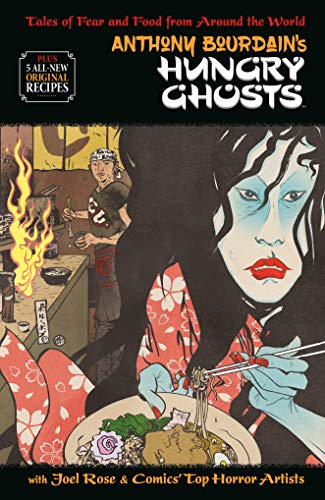 Hungry Ghosts by Anthony Bourdain, Joel Rose & Others
On a dark, haunted night, a Russian Oligarch dares a circle of international chefs to play the samurai game of 100 Candles--where each storyteller tells a terrifying tale of ghosts, demons and unspeakable beings--and prays to survive the challenge. Inspired by the Japanese Edo period game of Hyakumonogatari Kaidankai, Hungry Ghosts reimagines the classic stories of yokai, yorei, and obake, all tainted with the common thread of food.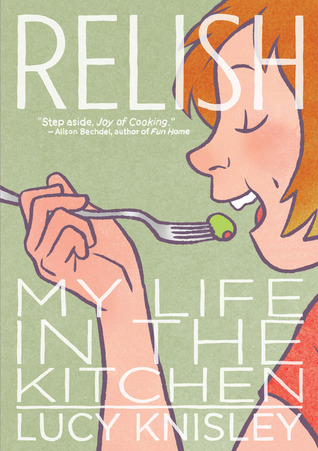 Relish: My Life in the Kitchen by Lucy Knisley
Lucy Knisley loves food. The daughter of a chef and a gourmet, this talented young cartoonist comes by her obsession honestly. In her forthright, thoughtful, and funny memoir, Lucy traces key episodes in her life thus far, framed by what she was eating at the time and lessons learned about food, cooking, and life. Each chapter is bookended with an illustrated recipe—many of them treasured family dishes, and a few of them Lucy's original inventions.
To Drink And To Eat by Guillaume Long
If you want to take your culinary skills from cook to master chef, you'll need to know a few things. Where can you get not just good, but the best wild garlic? What are the tried-and-true utensils every master chef's kitchen should have? Which recipe should you have in your back pocket for preparing to perfection at a moment's notice? What are the best wine pairings for your next dinner party? Aspiring chefs who need new tricks in the kitchen: You're not alone. Guillaume Long has asked and answered all your culinary questions. Cooking blogs and comics come together in To Drink and To Eat, the newest and most unique cookbook to add to your kitchen shelf.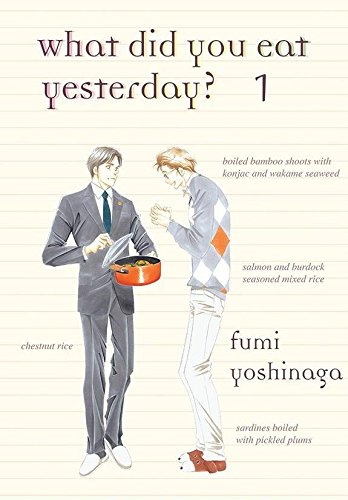 What Did You Eat Yesterday by Fumi Yoshinaga
Shiro Kakei, lawyer by day and gourmand by night, lives with his boyfriend, Kenji Yabuki, an out-going salon stylist. While the pair navigate the personal and professional minefields of modern gay life, Kenji serves as enthusiastic taste-tester for Shiro's wide and varied made-from-scratch meals.