Four-Color Frights: Vintage Horror Anthology Comics
Posted on:

20 October 2020

By:

Jon Schafle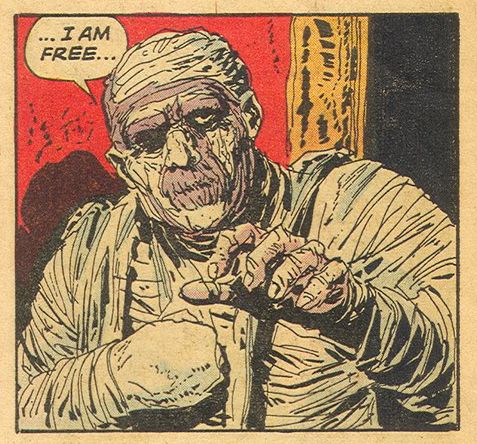 That mummy isn't lying- some pulse-pounding vintage horror comics can be yours to read for free with your library card, both from our physical and digital collections! Horror and comics have a long standing (though somewhat disastrous) history both in American and abroad. During World War II soldiers became hooked on comics as a means to escape, and after the war had ended and they returned home they kept reading leading to a proliferation of all manner of new comic titles and publishers. One of the major publishers at the time was EC (Entertaining Comics) along with DC and Timely (which would become Marvel), though EC's line of books focused on horror, crime and war as opposed to super heroes or funny animal books that were popular at the time as well. Unfortunately this increased notoriety lead to increased scrutiny and in the 50's a German psychiatrist named Fredrick Wertham began to lecture and publish articles about the dangerous of juveniles reading comics and detailed his research in the infamous book Seduction of the Innocent where he made wild claims and correlations about the link between reading comics and criminal and 'degenerate' behavior, with horror comics at the top of his hit list. Swept up in the paranoia of the 50's his ideas were taken to the highest courts in land and publishers were forced to testify before congress leading to the establishment of the Comics Code Authority, a strict set of rules to heavily censor what could be published in comics. This forced several publishers out of business and shuttered the EC comics department canceling such titles as Tales from the Crypt, Haunt of Fear, and Vault of Horror. Those companies that did survive were forced to water down their more provocative stories and art, though over time loopholes were found and people gradually became more lax about the rules although the Comics Code wasn't fully dismantled until the 90's which each individual publisher policing their own books and setting age guidelines accordingly. When people talk about pre-code horror, they're referring to those books published before the heavy censorship was established, there wasn't a real resurgence of horror books in earnest until the 70's and it grew from there. I've complied some of my favorite and most notable examples of vintage horror below since it time for Halloween...
Tales From The Crypt
Volume 2 (#23-28) - Hoopla Digital
Volume 4 (#35-40) - Hoopla Digital
Volume 5 (#41-46) - Hoopla Digital
Arguably the most well known of the Golden Age horror books, Tales From the Crypt was a horror anthology hosted by the Crypt Keeper, who would introduce the theme for the issue, which was self contained, and provide commentary between stories. Although the volumes available aren't sequential you won't miss anything by grabbing any of them since each issue is it's own separate stories and you can pick up wherever! These archive editions are great since they reprint everything exactly, even the letters column where the writers would write in as the Crypt Keeper's rival hosts, the Vault Keeper and the Old Witch to smack talk each other and complain how boring each other's books were compared to their own.
Vault of Horror
Volume 1 (#12-17) - Hoopla Digital
Volume 3 (#24-29) - Hoopla Digital
Volume 4 (#30-35) - Hoopla Digital
Volume 5 (#36-40) - Hoopla Digital
Hosted by my personal favorite of the EC horror hosts, the Vault Keeper, this had a similar set up to Tales from the Crypt with the Keeper introducing the stories and providing commentary. These are also self-contained and you can pick up any volume and start reading, this is from the same archive collection as well so they're reprinted and recolored in their entirety from the original issues!
Haunt of Fear
Volume 2 (#7-12) - Hoopla Digital
Volume 3 (#13-18) - Hoopla Digital
Volume 4 (#19-24) - Hoopla Digital
Volume 5 (#25-28) - Hoopla Digital
Rounding out the trifecta of the EC horror anthologies and hosted by the fiendish Old Witch, using a similar set up and collected as another installment of the EC Archives line recolored and reproduced in it's entirety. All three of these horror anthologies ran from 1950 until their cancellation in 1965 due to the Comics Code.
Creepy
Volume 1 (#1-5) - Hoopla Digital
Volume 2 (#6-10) - Hoopla Digital
Volume 3 (#11-15) - Hoopla Digital
Volume 4 (#16-20) - Hoopla Digital
View the complete run available on Hoopla here.
Inspired by the EC Comics horror anthologies from the 1950's, Creepy was began in 1964 by Warren Publishing, the company responsible for Famous Monsters of Filmland. Using the magazine format instead of comics helped them to dodge the censorship issues and were able to sell their magazine without the Comics Code Authority stamp, it was a black and white anthology magazine hosted by Uncle Creepy and boasted some of the most talented writers and artists of the day.
Eerie
Volume 1 (#1-7) - Hoopla Digital
Volume 2 (#8-12) - Hoopla Digital
Volume 3 (#13-17) - Hoopla Digital
Volume 4 (#18-22) - Hoopla Digital
View the rest of the collection on Hoopla here.
This was the sister series to Creepy, in the same black and white magazine format, with this incarnation hosted by Cousin Eerie- a relative of Uncle Creepy. As opposed to Creepy and the earlier EC titles, although Eerie started as a stand-alone anthology, over time it did at a few continuing stories to it's run.
More from Warren
Vampirella Archives Volume 1 - Hoopla Digital
Vampirella originally started out as another black and white horror anthology by Warren with it's host Vampirella, who was modeled after horror movie hostesses. The key difference being after a few issues, Vampirella would go on to be the start of the own main tale of each episode as she grow wildly popular. To see a full list of the her archives available on Hoopla click here.
James Warren: Empire of Monsters - Print Collection
A look at the interesting life of James Warren and the history of his career in publishing and it's bend towards horror and how he dealt with the culture of censorship and comics of the day.
Haunted Horror
Volume 1 (#1-3) - Print Collection
Volume 6 (#16-18) - Hoopla Digital
This series reprints gorgeous glossy reprints of horror anthologies from the pre-code horror days of the 1950's from the smaller publishers and shorter comic book runs from a sundry of titles.
Other Horror Anthologies
Mummies: Classic Monsters of Pre-Code Horror Comics - Hoopla Digital
SEE! The brutal attack of "The Living Mummies!" SENSE! The strangest "Case of the Beckoning Mummy!" FEEL! As "The Unburied Mummy" intensifies its powerful grip upon your puny throat! And there's a tomb-full more! PLUS! A crumbling gallery of classic mummy comic book covers, and spine-tingling guest appearances by Frankenstein's Monster and Charlie Chan! You'll be screaming ...
Fiction House Comics' Ghosts & Girls - Print Collection
The publisher Fiction House was infamous for what anti-comics crusader Dr. Fredric Wertham called "headlight comics," i.e. comics featuring the ample female bosom. The Chilling Archives of Horror Comics series curates the foxiest and scariest of these poltergeist-infused Good Girl Art comics in a pulse-pounding tome, Ghosts and Girls!
Lou Cameron's Unsleeping Dead - Print Collection
Lou Cameron was a groundbreaking art master in the 1950s Pre-Code comics era. With his innovative experimental layouts and frequent use of surrealism, his horror comics have been described as -Jim Steranko meets Graham Ingels. Zombies, vampires, werewolves, witches, ghosts, and devils abound in these terror-filled stories.