Explore Religious Diversity with Your Children - Ramadan
Posted on:

16 May 2019

By:

Jon Schafle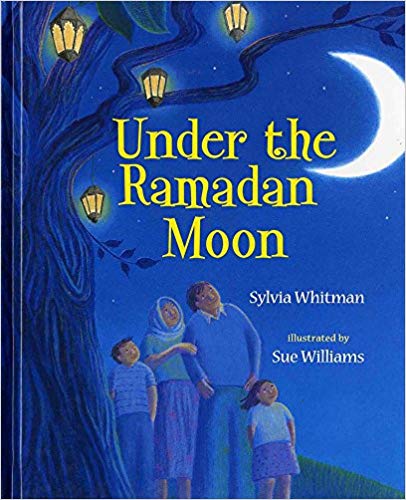 Ramadan is a religious holiday of the Muslim faith that celebrates the revelation of the first verses of the Quran (the sacred text of Islam) from God to the prophet Mohammed. It is a month long holiday that is considered by Muslims to be the holiest month of the year, occurring in the ninth month of the lunar calendar. This means the date varies from year to year since the Gregorian calendar is eleven days longer, Ramadan began on May 6th and will run until June 5th for 2019. During the celebration, all healthy adults fast (much like the Catholic practice of Lent) from sunrise to sunset, with special allowances given to small children and those who are pregnant, nursing, ill, traveling, elderly, ect.. Because fasting is seen as part of sawm (one of the five pillars of Islam - the others being profession of faith, daily prayers, charity, and pilgrimage to Mecca), many Muslims will refrain from other activities as well as cursing, gossiping and other bad habits as well. 
This fasting reminds Muslims of human frailty and their dependence on God for sustenance, of what it is like to be hungry and thirsty to encourage empathy for the poor and needy, and to reduce their distractions to further commit themselves to God. During Ramadan, the pre-dawn meal is called Suhoor and the post-sunset meal is called Iftar. Tradition is that the daily fast be broken by a single date followed by a large elaborate meal which varies depending on the culture and region in which the fast is practiced in. The end of Ramadan is celebrated with Eid al-Fitr, a three day festival which is one of Islam's major holidays - in fact, since 1996 the sitting U.S. president has traditionally held a dinner to celebrate the occasion.
To celebrate this occasion, take a look at just a few selections from our collection to share with your family to learn more about Islamic culture and the Muslim neighbors in our community: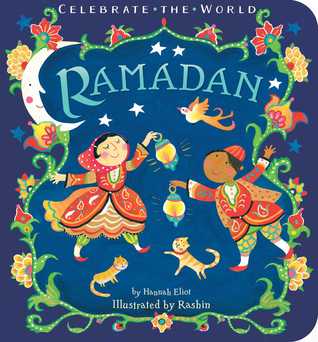 Ramadan by Hannah Elliot & Rashin Kheiriyeh (Boardbook)
Learn all about the traditions of Ramadan with this first book in the brand-new board book series Celebrate the World, which highlights celebrations across the globe. In the ninth month of the year, when the first crescent moon rises in the sky, it's time to celebrate Ramadan! In this lovely board book with illustrations from Rashin Kheiriyeh, readers learn that Ramadan is a time to reflect on ourselves, to be thankful, and a time to help others.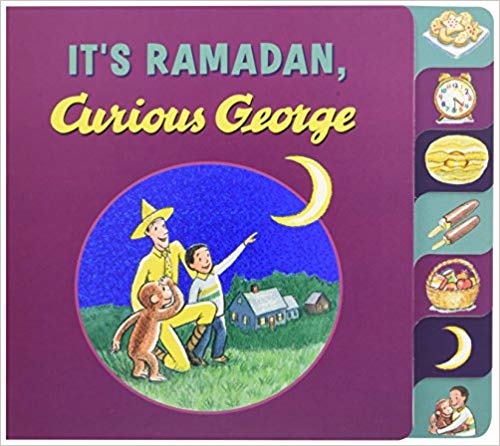 It's Ramadan, Curious George by H.A. Rey, Hena Khan & Mary O'Keefe Young (Boardbook)
It's the first day of Ramadan, and George is celebrating with his friend Kareem and his family. George helps Kareem with his first fast and joins in the evening celebration of tasting treats and enjoying a special meal. Then, George helps make gift baskets to donate to the needy, and watches for the crescent moon with the man in the yellow hat. Finally George joins in the Eid festivities to mark the end of his very first Ramadan. This playful tabbed board book, with a foil-stamped cover, makes a great holiday gift for all fans of Curious George—those who celebrate Ramadan, and those who are learning about it for the first time!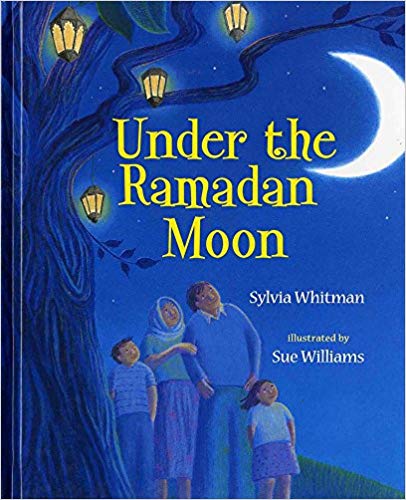 Under the Ramadan Moon by Sylvia Whitman & Sue Williams (Picture Book)
We wait for the moon.We watch for the moon.We watch for the Ramadan moon.We give to the poor, and read Quran, under the moon.We live our faith, until next year under the moon, under the moon,under the Ramadan moon. Ramadan is one of the most special months of the Islamic year, when Muslims pray, fast, and help those in need. Sylvia Whitman's lyrical story, with luminous illustrations by Sue Williams, serves as an introduction to Ramadan-a time for reflection and ritual with family and friends. A detailed note about Ramadan is included.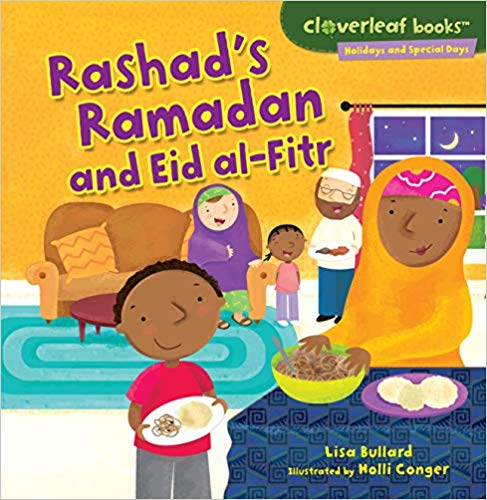 Rashad's Ramadan and Eid al-Fitr by Lisa Bullard & Holli Conger (Picture Book)
For Muslims, Ramadan is a time for fasting, prayer, and thinking of others. Rashad tries to be good all month. When it's time for Eid al-Fitr, he feasts and plays! Find out how people celebrate this special time of year.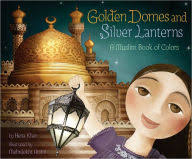 Golden Domes & Silver Lanterns: A Muslim Book of Colors by Hena Khan & Mehrdokht Amini (Picture Book)
Magnificently capturing the colorful world of Islam for the youngest readers, this breathtaking and informative picture book celebrates Islam's beauty and traditions. From a red prayer rug to a blue hijab, everyday colors are given special meaning as young readers learn about clothing, food, and other important elements of Islamic culture, with a young Muslim girl as a guide. Sure to inspire questions and observations about world religions and cultures, Golden Domes and Silver Lanterns is equally at home in a classroom reading circle as it is being read to a child on a parent's lap.