Dungeons & Dragons (& Libraries)
Posted on:

14 March 2021

By:

Jon Schafle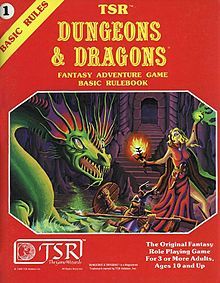 Before the onset of the pandemic last year, the Downtown Branch had a weekly meeting for teens to hang out and play board games, as well as Dungeons & Dragons and Pathfinder thanks to our volunteer Dungeon Master. With things as they are, meetings in person have been cancelled since the library has been back to work but the group has still been meeting virtually to continue to hang out and create new adventures! Utilizing Discord voice chat and Roll20 to facilitate our games remotely Wednesdays from 4-6pm, if you have a teen or are a teen interested in joining the group please contact jschafle@hmcpl.org for more information.
What is Dungeons & Dragons?
Dungeons & Dragons (or D&D) is a role-playing game created in 1974 by Gary Gygax and Dave Arneson where players create their own personalized characters and go on imaginary adventures. A Dungeon Master (or DM) serves as the referee and storyteller that guides the players on their journey and plays the part of the inhabitants of the game's world. The players form a party and interact with the game world and each other to solve puzzles, explore, fight enemies and gather resources that all give them experience points (or XP) and over the course of several game sessions their characters level up and grow stronger, learning new talents and abilities. There have been several editions of the game, each of which has it's own set of rules and unique quirks.
 What is Pathfinder?
Pathfinder is another role-playing game created in 2009 by Paizo Publishing that is based off and modifies the revised third edition of Dungeons & Dragons and is similar to the original game but adds many of it's own mechanics, rules and other features.
Further Reading
Rise of the Dungeon Master: Gary Gygax and the Creation of D&D by David Kushner & Koren Shadmi
A graphic biography of the Father of Dungeons & Dragons as well as the origin and evolution of the game.
Dungeons & Dragons: Young Adventurers Guides by Jim Zub 
An illustrated introductory guide for beginners and younger readers curious about the magical side of Dungeons & Dragons featuring caster profiles, spells and their mechanics in the games. 
Dungeons & Dragons: Endless Quest series by Matt Forbeck
This Choose-Your-Own-Adventure series targeted for kids has you assuming the role of one of the siginture classes of Dungeons & Dragons and is a great introduction for younger readers.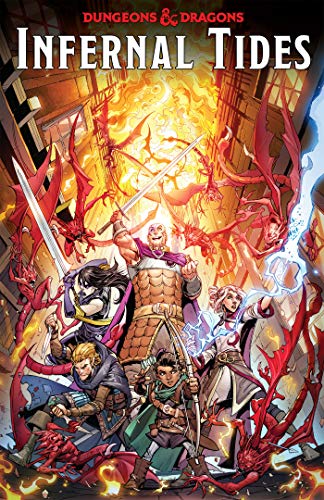 Dungeons & Dragons: Infernal Tides by Jim Zub & Max Dunbar
Following the heroes of Baldur's Gate in this official D&D campaign story. 
Rolled & Told edited by Steenz
A collection of ready-made one-shot adventures for new game and dungeon masters. Each adventure is 5E compatible and ready-to-play. 7 full adventures (5-6 hours on average) 6 mini-adventures (2-3 hours on average) 4 pre-made and ready to use character sheets based on our iconic characters in each of your favorite classes. Over 18 articles full of helpful tips and insight on how to enhance the game that's perfect for game masters, aspiring and experienced alike.
The Adventure Zone adapted by Clint McElroy & Carey Pietsch
Based on the Adventure Zone podcast staring the brothers Justin, Travis, & Griffin McElroy and their father Clint playing through a roleplaying adventure loosely based on Dungeons & Dragons and other RPG's. This graphic novel series adapts their adventures in chronological order.
Rick & Morty Versus Dungeons & Dragons by Patrick Rothfuss, Jim Zub & Troy Little
Featuring the characters from the fan-favorite Adult Swim series having misadventures as Morty expresses an interest in learning to play the game, the first volume has the dysfunctional family dimension hopping to the realms of fantasy and the second volume has Earth being invaded by the realms of fantasy. This series is recommended for older teens and adults. 
Critical Role: Vox Machina Origins by Matthew Mercer, Jody Houser, & Olivia Sampson
Based on a web series of a group of professional voice actors playing through a Dungeons & Dragons campaign.