Graphic Novels for Hispanic Heritage Month
Posted on:

29 September 2021

By:

Jon Schafle
Hispanic Heritage Month takes place between September 15th and October 15th every year in the United States and it's a great time to showcase new books featuring Latinx creators and subjects, I've chosen some of my favorites from our graphics collection below, including some new releases!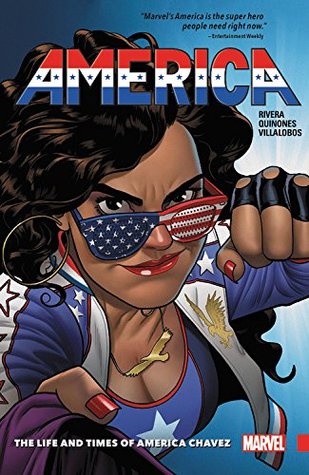 America Vol. 1: The Life & Times of America Chavez by Gabby Rivera & Joe Quiñones
At last! Everyone's favorite no-nonsense powerhouse, America Chavez, gets her own series! Critically acclaimed young-adult novelist Gabby Rivera and all-star artist Joe Quinones unite to shine a solo spotlight on America's high-octane and hard-hitting adventures! She was a Young Avenger. She leads the Ultimates. And now she officially claims her place as the preeminent butt-kicker of the entire Marvel Universe! But what's a super-powered teenager to do when she's looking for a little personal fulfillment? She goes to college! America just has to stop an interdimensional monster or two first and shut down a pesky alien cult that's begun worshipping her exploits before work can begin. Then she can get on with her first assignment: a field trip to the front lines of World War II - with Captain America as her wingman!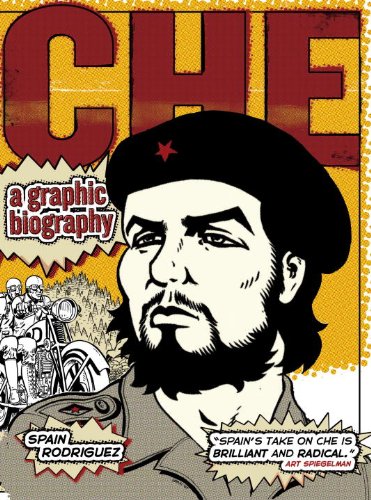 Che: A Graphic Biography by Spain Rodriguez
Since his death in 1967, Ernesto "Che" Guevara has become a universally known revolutionary icon and political figure whose image is among the most recognizable in the world. This dramatic and extensively researched book breathes new life into his story, portraying his struggle through the medium of the underground political comic--one of the most prominent countercultural art forms since the 1960s. Spain Rodriguez's powerful artwork illuminates Che's life and the experiences that shaped him, from his motorcycle journey through Latin America, his rise to prominence as a leader in Fidel Castro's revolutionary movement, his travels in Africa, his involvement in the insurgency that led to his death in Bolivia, and his extraordinary legacy.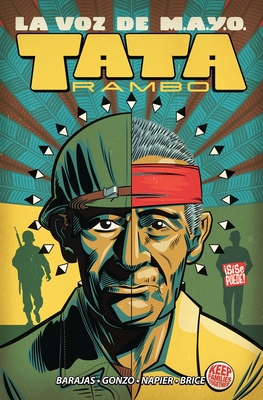 La Voz de M.A.Y.O.: Tata Rambo by Henry Barajas & Jason Gonzales
LA VOZ DE M.A.Y.O: TATA RAMBO is based on the oral history of Ramon Jaurigue, an orphan and WWII veteran who co-founded the Mexican, American, Yaqui, and Others (M.A.Y.O.) organization, which successfully lobbied the Tucson City Council to improve living and working conditions for members of the Pascua Yaqui tribe, paving the way to their federal recognition. Meanwhile, Ramon's home life suffered as his focus was pulled from his family to the wider community, and from domesticity to the adrenaline of the campaign. A resonant, neglected slice of American history is brought to life for the first time with art by J. Gonzo, letter art by Bernardo Brice, editing by Claire Napier, and a script by Henry Barajas —the great-grandson of Ramon Jaurigue, a.k.a. Tata Rambo.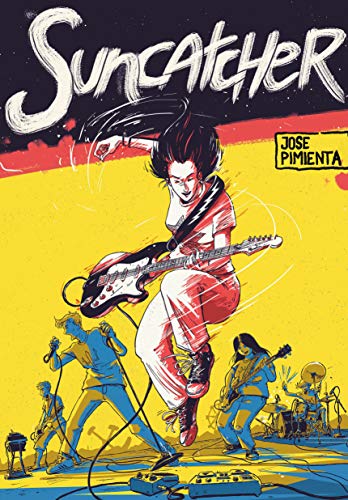 Suncatcher by Jose Pimienta
Suncatcher tells the story of a young musician in Mexicali in the early 2000s. When she discovers her grandfather's soul is trapped inside his old guitar, she takes it upon herself to find a way to save him. Meanwhile, she also aims to be in a unique local band with big dreams to be part of the current movement of bands across the country of Mexico.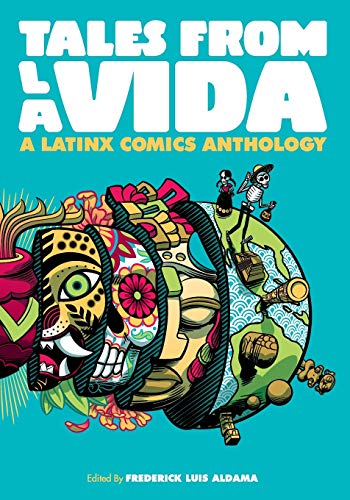 Tales from La Vida: A Latinx Comics Anthology edited by Frederick Luis Aldama
In the Latinx comics community, there is much to celebrate today, with more Latinx comic book artists than ever before. The resplendent visual-verbal storyworlds of these artists reach into and radically transform so many visual and storytelling genres. Tales from la Vida celebrates this space by bringing together more than eighty contributions by extraordinary Latinx creators. Their short visual-verbal narratives spring from autobiographical experience as situated within the language, culture, and history that inform Latinx identity and life. Tales from la Vida showcases the huge variety of styles and worldviews of today's Latinx comic book and visual creators. Whether it's detailing the complexities of growing up—mono- or multilingual, bicultural, straight, queer, or feminist Latinx—or focusing on aspects of pop culture, these graphic vignettes demonstrate the expansive complexity of Latinx identities. Taken individually and together, these creators—including such legendary artists as Jaime and Gilbert Hernandez, Roberta Gregory, and Kat Fajardo, to name a few—and their works show the world that when it comes to Latinx comics, there are no limits to matters of content and form. As we travel from one story to the next and experience the unique ways that each creator chooses to craft his or her story, our hearts and minds wake to the complex ways that Latinxs live within and actively transform the world.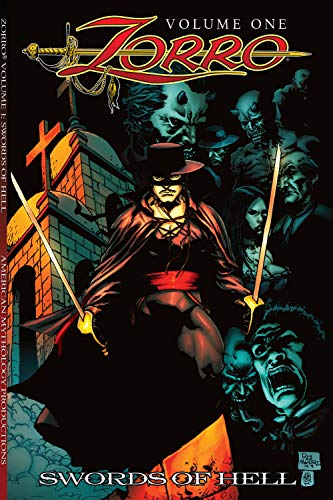 Zorro: Swords of Hell by David Avallone & Allan Martinez
Zorro is back in a new horror-based series and celebrating 100 years of heroic swashbuckling action! Los Angeles is invaded by an army of demonic horsemen and Zorro is the only man who can save his home from becoming Hell on Earth. David Avallone (Bettie Page, Twilight Zone: The Shadow) and Roy Allen Martinez (House of M, Immortal Iron Fist) are proud to present the return of Zorro, as he faces down the Swords of Hell in an action-packed supernatural thrill ride. This volume collects the full Zorro: Swords of Hell 4 issue series and contains a wealth of extra material celebrating the centennial of this classic hero!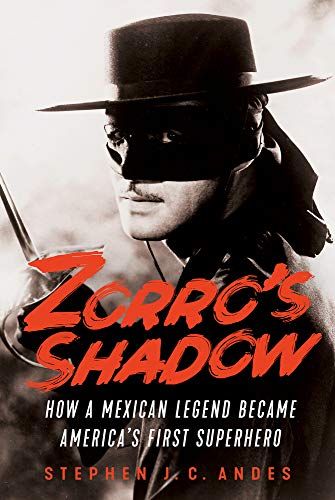 Zorro's Shadow: How a Mexican Legend Became America's First Superhero by Stephen J.C. Andes
Long before Superman or Batman made their first appearances, there was Zorro. Born on the pages of the pulps in 1919, Zorro fenced his way through the American popular imagination, carving his signature letter Z into the flesh of evildoers in Old Spanish California. Zorro is the original caped crusader, the first masked avenger, and the character who laid the blueprint for the modern American superhero. Historian and Latin American studies expert Stephen J. C. Andes unmasks the legends behind Zorro, showing that the origins of America's first superhero lie in Latinx history and experience. 
The Dragon Slayer: Folktales from Latin America by Jamie Hernandez
How would a kitchen maid fare against a seven-headed dragon? What happens when a woman marries a mouse? And what can a young man learn from a thousand leaf cutter ants? Famed Love and Rockets creator Jaime Hernandez asks these questions and more as he transforms beloved myths into bold, stunning, and utterly contemporary comics. Guided by the classic works of F. Isabel Campoy and Alma Flor Ada, Hernandez's first book for young readers brings the sights and stories of Latin America to a new generation of graphic-novel fans around the world.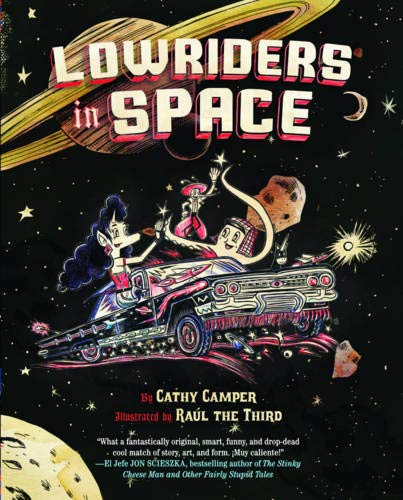 Lowriders in Space by Cathy Camper & Raúl the Third
Lupe Impala, El Chavo Flapjack, and Elirio Malaria love working with cars. You name it, they can fix it. But the team's favorite cars of all are lowriders—cars that hip and hop, dip and drop, go low and slow, bajito y suavecito. The stars align when a contest for the best car around offers a prize of a trunkful of cash—just what the team needs to open their own shop! ¡Ay chihuahua! What will it take to transform a junker into the best car in the universe? Striking, unparalleled art from debut illustrator Raul the Third recalls ballpoint-pen-and-Sharpie desk-drawn doodles, while the story is sketched with Spanish, inked with science facts, and colored with true friendship. With a glossary at the back to provide definitions for Spanish and science terms, this delightful book will educate and entertain in equal measure.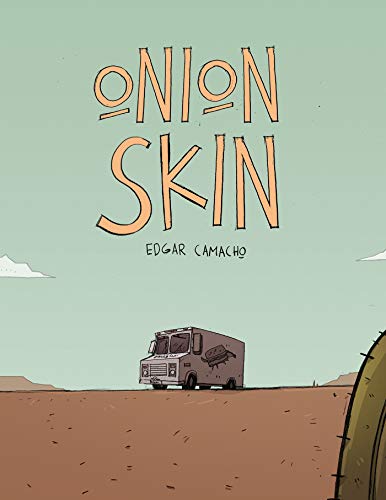 Onion Skin by Edgar Camacho 
Rolando's job was crushing him... and then it literally crushed his hand. Now he can barely get out of the house, binging TV and struggling to find meaning. On a rare night out with friends, he meets Nera, a woman who lives only in the moment. Dazzled by her hedonistic attitude, Rolando sees a new life opening before him.Together, these restless youths fix up an old food truck and hit the road for a wild journey. But have they truly found the spice of life? Or has Rolando bitten off more than he can chew? Discover a bright new star of Mexican comics in this romantic and thrilling tale, stuffed with adventure and delicious food. Onion Skin became a sensation in its native land for its rich narrative, captivating characters, thrilling action, and positively delicious artwork. It's a feast that will leave readers eager for a second course. Winner of Mexico's first ever National Young Graphic Novel Award!