Reading in the Wild
Posted on:

6 June 2018

By:

Amanda Campbell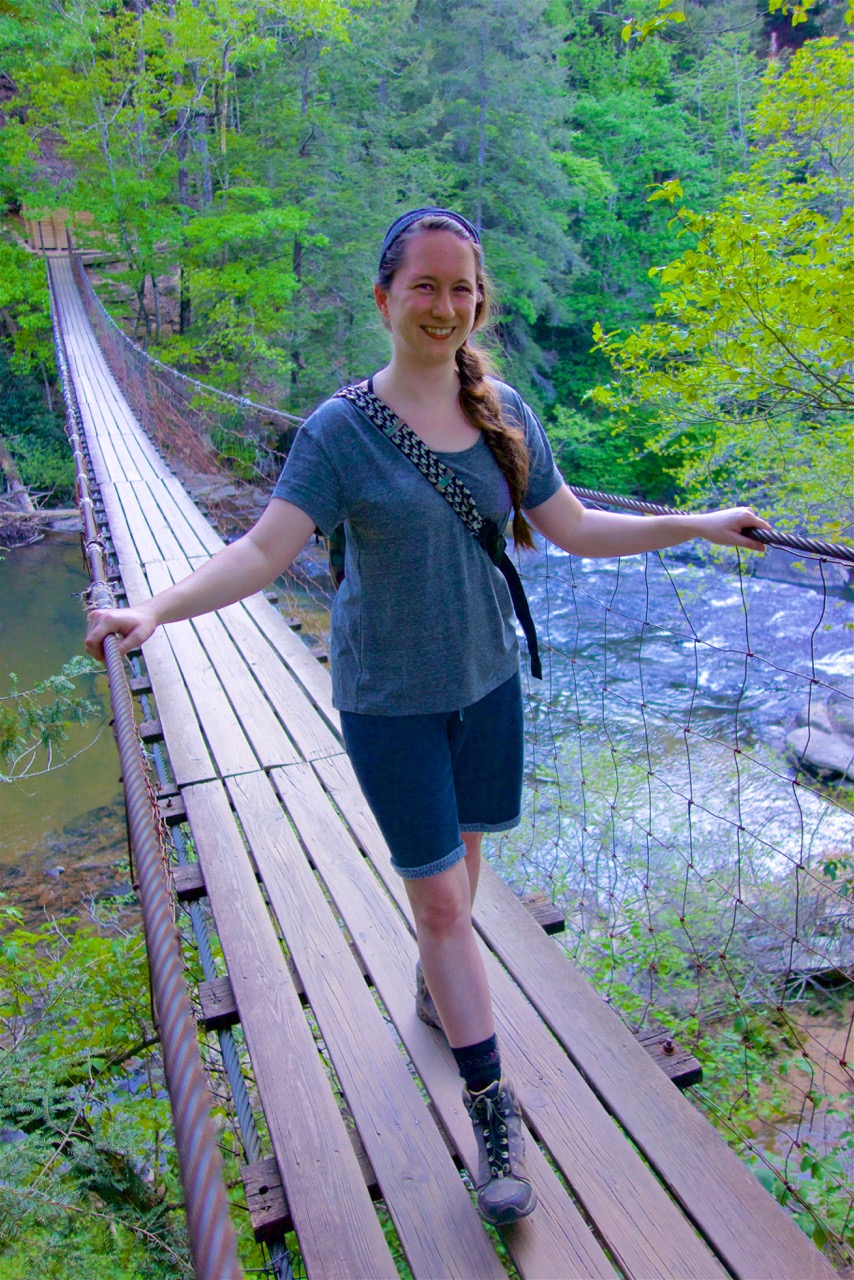 When you think about working in a library, you might picture a typical day filled with books and reading. While we are technically surrounded by books, the public library is really about people. Whether it's connecting someone to their next great read or helping with a job application, the meaningful interactions are why I love coming to work every day. 
So when it's time for a vacation, I like to get out in the wilderness. I recently spent a week hiking and camping in the Great Smoky Mountains National Park, Fall Creek Falls State Park, and South Cumberland State Park. I found some great trail guides here at the library that helped me plan the hikes.
50 Hikes on Tennessee's Cumberland Plateau, Johnny Molloy
Great Smoky Mountains National Park: Must-Do Hikes for Everyone, Jonny Molloy
Jonny Molloy's trail guides are both informative and interesting. He gives just enough information to avoid getting lost without spoiling all the discovery potential. I'm still pretty new to planning hiking trips and this guide helped me to feel more comfortable and confident.
I'm a big nonfiction reader and have come across several great books with an outdoorsy theme. Here are some of my favorites lately:
Under the Stars: How America Fell in Love with Camping, Dan White
In this blend of personal essay and historical narrative, Dan White explores the people and groups that were influential in shaping America's relationship with the outdoors. After each discussion of a historical trend in hiking or camping, White recreates the experience, with results both humorous and insightful. 
Braiding Sweetgrass, Robin Wall Kimmerer
As a botanist and a Native American, Robin Wall Kimmerer brings a unique perspective of nature to this essay collection. Her writing sparks my intellectual curiosity and awakens a new level of spiritual and emotional awareness. I walked away from this book with a deeper respect for the land.
The Laws Guide to Nature Drawing and Journaling, John Muir Laws
I've been wanting to incorporate some creativity into my hikes and this book seemed like the perfect avenue to explore art, journaling, and scientific observation. As soon as I checked it out and flipped through the pages, I got a sense of the level of knowledge and experience that the author managed to distill into guides and projects for people of all skill levels. This a fantastic resource for artists, amateur naturalists, people who journal, and anyone generally curious about the world around them.
Exploring Wild Alabama: A Guide to the State's Publicly Accessible Natural Areas, Kenneth M. Wills and L. J. Davenport
Alabama is one of the most biodiverse states in the country, and this is a wonderful guide to local escapes into nature. For a quick excursion, check out Monte Sano Mountain and all the Land Trust of North Alabama preserves. For a day trip or easy overnight, I recommend the Sipsey Wilderness in Bankhead National Forest. Happy hiking!
You can find all these and more at your local library!