Posted on:

13 August 2018

By:

Suzanne
Hi my name is Suzanne, I'm the Adult Programs Librarian at the Downtown Library and I have a book problem.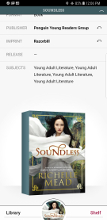 I love reading and I read fast, a combination which has caused me many difficulties. Mainly back pain from very heavy bags filled with books. If I don't carry with me 25 books, how on earth will I survive a two week beach vacation?
Digital books are my new favorite thing. Now I can have all of the books I want in my pocket. I can read in line at the super market. I can read while I walk from one end of the building to the other (warning: this ability to walk and read has been cultivated over many years of practice; don't try this at home!). I can read in the car while my husband drives and when I finish a book I CAN DOWNLOAD ANOTHER ONE WITHOUT STOPPING!