Start your New Year at the Library!
Posted on:

2 January 2019

By:

Melanie Thornton
Happy New Year! This is the time of year where we reflect on our goals and aspirations and resolve to make changes. A great place to start is the library! Whether you want to pick up a new skill, brush up on your finances, or read up on health and meditation, your local branch has something for you. Welcome to Self-Improvement Month at the Huntsville Madison County Public Library!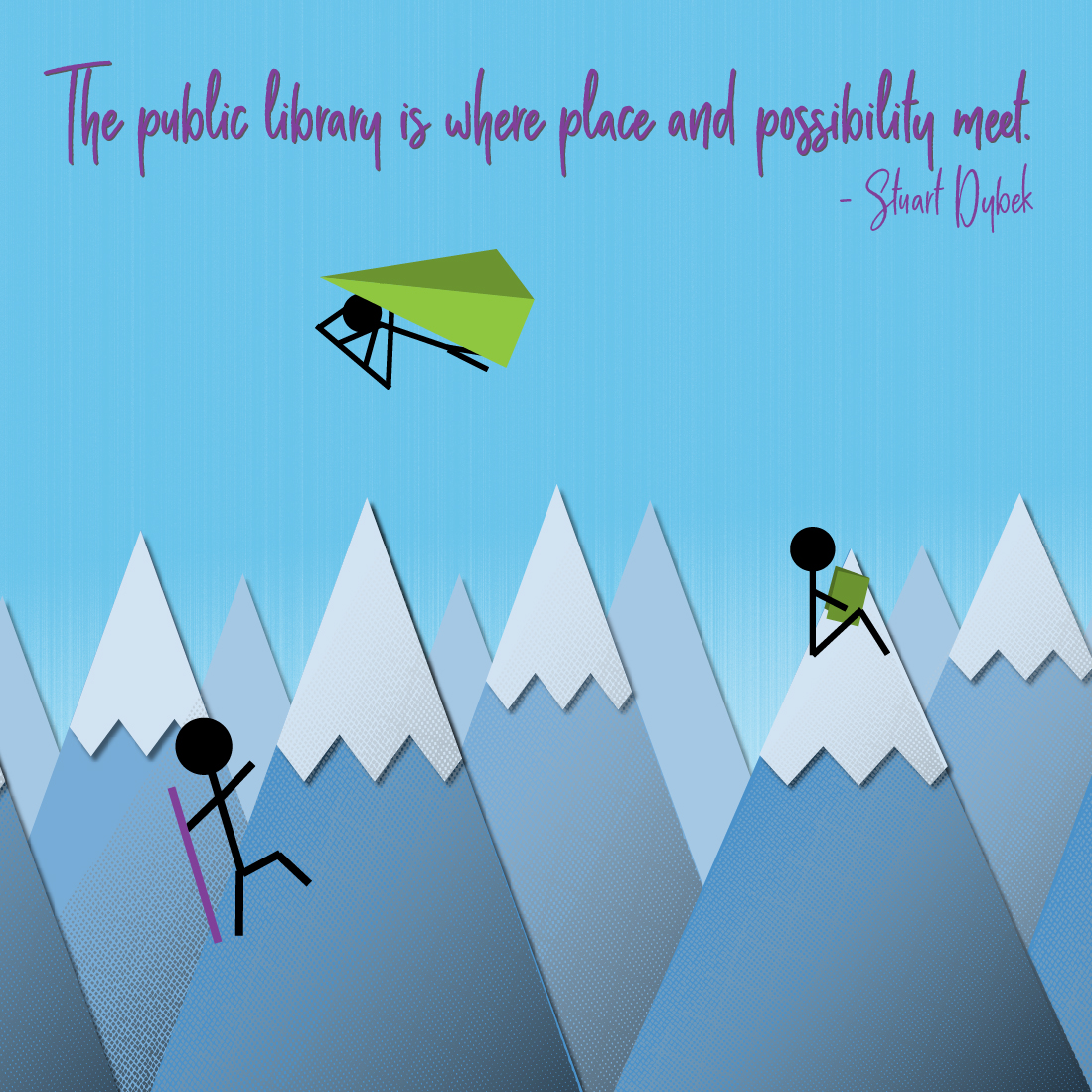 Improve Yourself at Bailey Cove
Fridays in January at 11:00 am
Bailey Cove Branch Library
January is the time to review, renew and improve! Join us each Friday of the month to learn a new skill or to learn new ways to take care of ourselves!  Sign up at the Bailey Cove Front Desk.
An Hour Unplugged
Eleanor E. Murphy Branch Library
Set aside some screen-free time for yourself at Murphy's Hour Unplugged! From 5:30-6:30 every Tuesday we'll have coloring sheets, playing cards, origami paper, and stationery to write that letter you've been meaning to get to. Or, bring your own activity!
YOGA Therapy
Bailey Cove Branch Library
Rose Jefferies joins us again to encourage everyone to use YOGA Therapy as a way of improving ourselves in 2019.  
Bring your own YOGA mat if you like, but there will be a few available.
Sign up at the Bailey Cove front desk 
Healthy Recipe Taste & Share
Tillman D. Hill Public Library of Hazel Green
Bring a sample of your favorite winter recipe to share and get new recipes from others!
Meditation at Madison
Madison Public Library
Join us for 30 minutes of guided meditation. Melt away your stress and learn techniques for a mindful approach to life! Program is free. Feel free to bring a mediation pillow if you would like. We will also have chairs available
Brain Building for Seniors
Madison Public Library
Exercise your brain at the Madison Public Library! The library will provide a selection of activities for senior citizens to help boost brain power and memory.
Introduction to Android and Tablets
Downtown Huntsville Library
This class will focus on the basic skills to operate an Android phone or tablet which include: Device Setup, Navigating the Home-Screen, Notifications, Security features, and more.
Financial Lunch and Learn
Downtown Huntsville Library
Join Kristi Crowell a Financial Advisor with Edward Jones for your lunch for this two part series. Session I- She will be discussing the benefits and when you should start taking social security as well as taxes. Session II- Take a quick look at your Medicare options and learn how you can better prepare for long-term health costs.
Create a Vision Board for 2019
Madison Public Library
Vision boards are tools, created with images and words, to help you visualize your goals and intentions. Placing your vision board in a location where you will regularly see it, will remind you to make choices to reach your goals. The library will provide a selection of magazines and materials, but you can bring any inspiring images, favorite magazines, and quotes with you to create your own vision board to help you realize your goals and intentions for 2019. Registration is required. 
Scrapbooking to Start 2019
Bailey Cove Branch Library
Have you wanted to have a year's worth of pictures in one place to look back over?  Beginning in January, Bailey Cove Library will offer Scrapbooking in our meeting room once a month and invite everyone to join us!  A double page spread will be given out to participants to use as instructed, or to use with your own creativity! $10 class fee for supplies will be collected at the class. Bring 5-6 pictures with you to use.  Sign up at the Bailey Cove Front Desk
Practical Bullet Journaling
Madison Public Library
Do you prefer pen and paper calendars over digital? Are you a chronic list maker? Then bullet journaling may be exactly the organizational tool you need!
Learn about practical approaches to bullet journaling from local expert Kim Holmes of bulletjournaljoy.com. Kim reaches over 41k followers on her Instagram account, sharing her practical tips and tricks to keep her life together through bullet journaling.
BAD Art at Bailey Cove
January 19 9:00 a.m. to 5:00 p.m.
If you are like us, we have a lot of left over art supplies from past projects!  Bailey Cove wants to see what you can make with these items!  Join us and have fun creating with friends without any concerns about the end result being perfect!
Alabama Before it was a State
Downtown Huntsville Library
Join us as we start our yearlong Alabama bicentennial celebration! In January, Ben Hoksbergen from the Alabama Archaeological Society (Huntsville Chapter) will discuss Alabama before it was a state. Discussion with Q&A to follow.
Knitting at New Hope
Elizabeth Carpenter Public Library of New Hope
Come knit and crochet with the New Hope Knitters.  This group meets Mondays and Saturdays that the library is open. Welcome to anyone wanting to learn.
Tai Chi for Adults
Bailey Cove Branch Library
This hour long class will teach you the basic Yang short form of Tai Chi.  The instructor will teach 24 gentle poses in a slow, mindful way in order to feel the physical and meditative aspects of this ancient Chinese martial art..  Tai Chis can improve your balance as you learn to feel the shift of your weight in a brand new way.  It can help reduce muscle pain, enhance flexibility and improve mental health. Wear comfortable clothing.  All the positions are done while standing. Lynn Anderson has been a Tai Chi practitioner for over twenty years. Sign up at the Bailey Cove front desk
Huntsville Hospital Mobile Medical Unit
January 30 10:00 a.m. until 2:00 p.m.
Gurley Public Library
Huntsville Hospital team will do routine screenings such as cholesterol, glucose, height weight, blood pressure, lung function, bone density and more.
Living Well with Diabetes
Downtown Huntsville Library
Join Joseph Erskine as he talks about how to manage your diabetes and still live your life to the fullest!