Chicken Storytime with Zaxby's
Posted on:

9 June 2019

By:

Ms. Autumn
Last Tuesday (June 04, 2019), a special guest joined us for toddler storytime at the Downtown Huntsville Library! Meet Big Z, Zaxby's giant but gentle chicken mascot: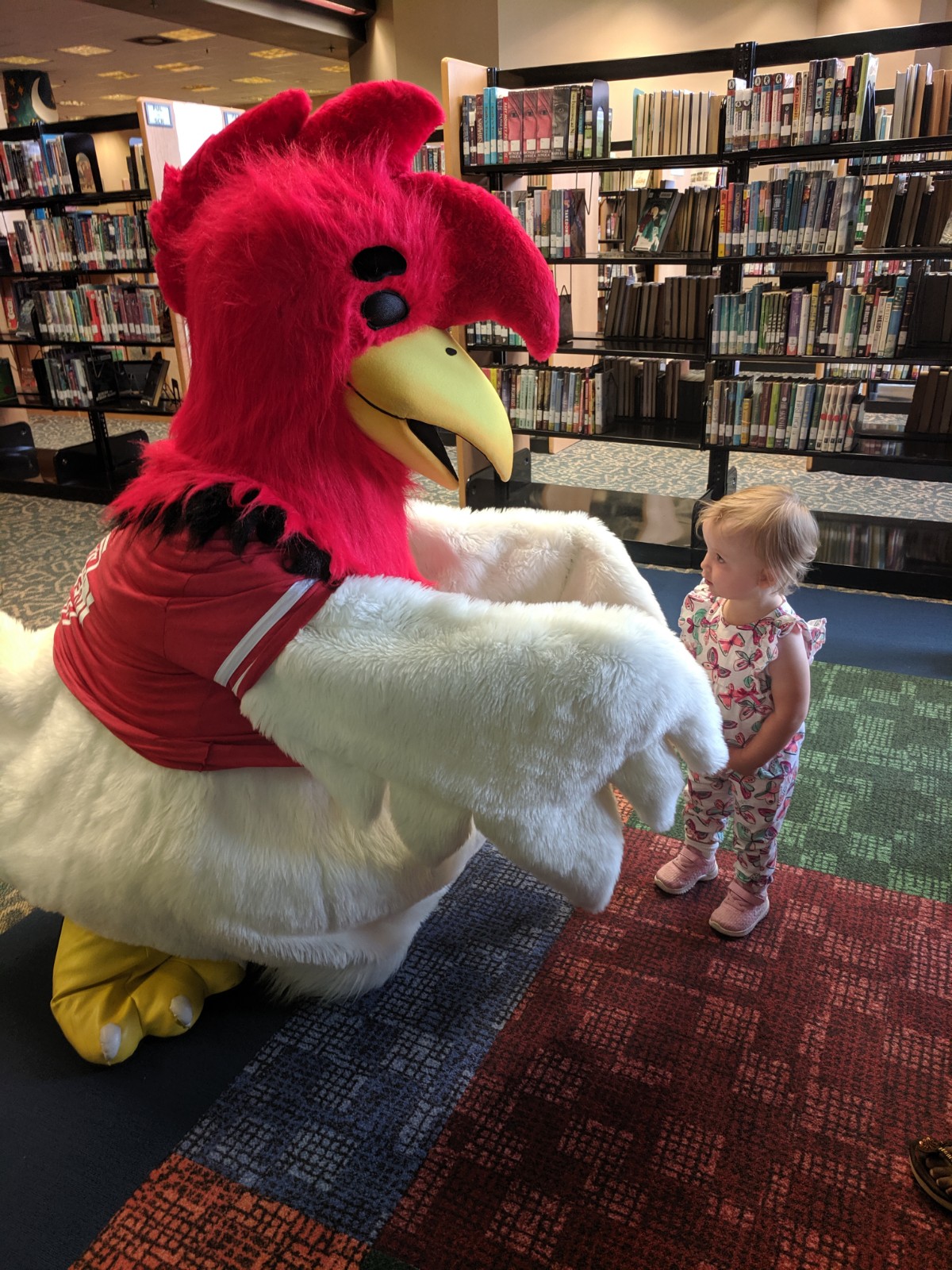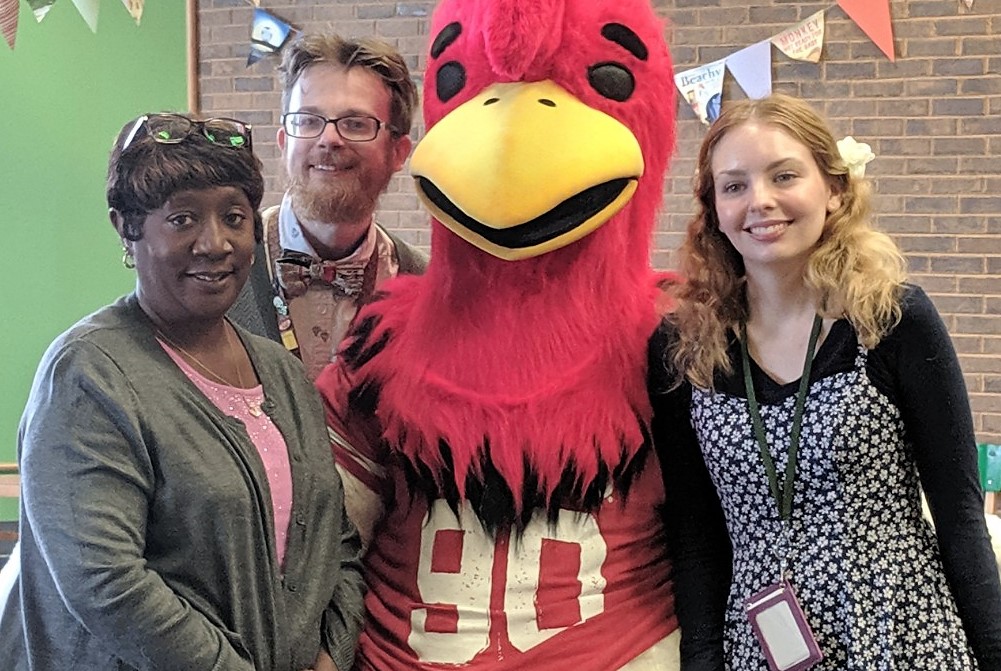 Big Z has been known to stop by storytimes on occasion. He loves interacting with the kids - especially if he can show off his Chicken Dance - and he always fills his wings with generous gifts! 
This time, Big Z brought our storytime goers coloring pages, chicken-shaped stress toys, and coupons for free Zaxby's Kickin' Chicken Sandwiches! Yum! 
We welcomed Big Z with a series of books, songs, and activities on his favorite subject -- chickens! Ms. Autumn recommends her favorite chicken materials below: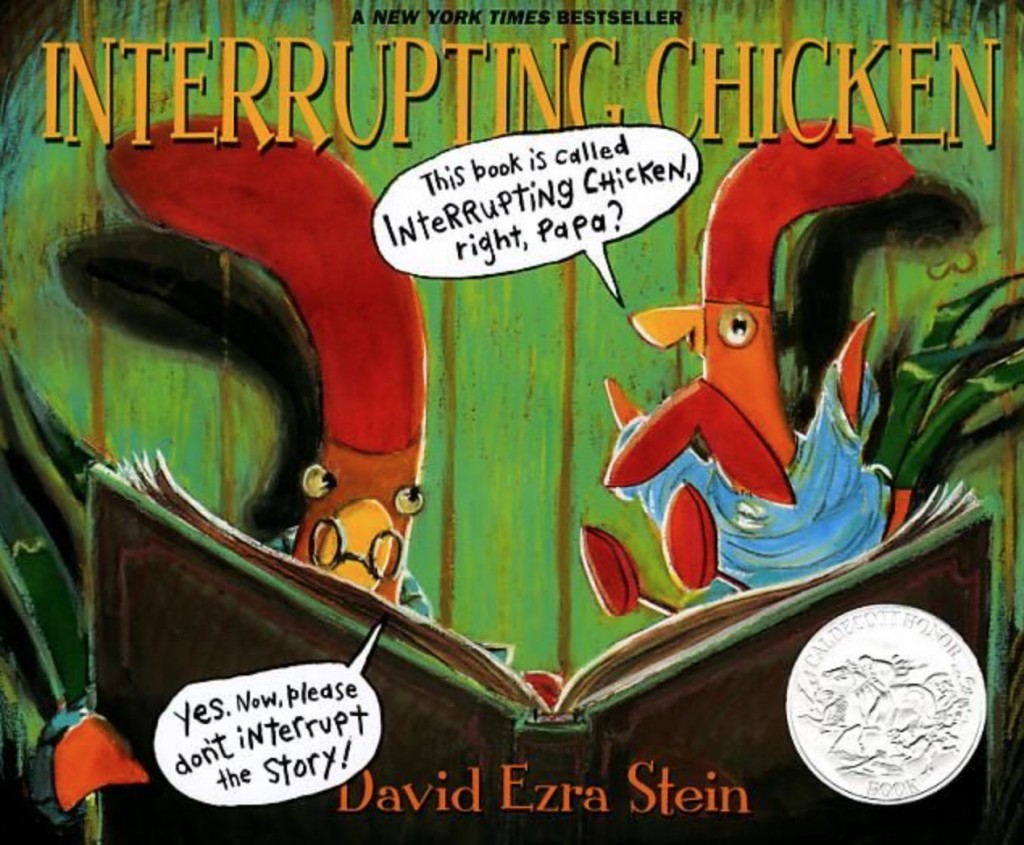 Interrupting Chicken by David Ezra Stein                                                                                                                                                                                                                                                                                         
This award-winning book provides a humorous account of a situation many caregivers will find relatable:
Papa tries to lull Little Red Chicken to sleep with some bedtime stories, but she won't stop interrupting! 
Will Papa make it through a story? Will Little Red Chicken finally fall asleep?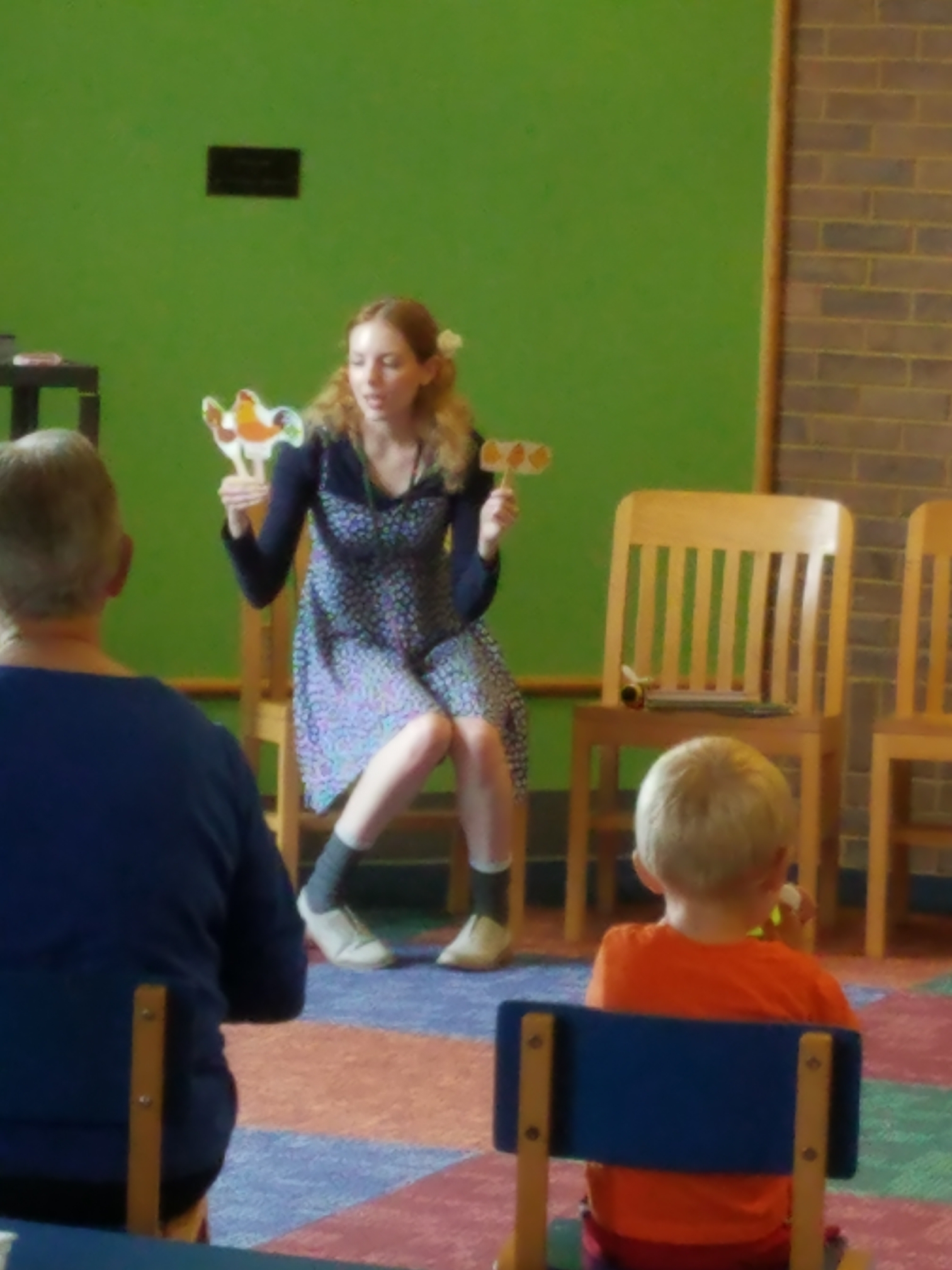 Finger Rhyme: Chicken Family 
Sing the lyrics below to the tune of "Down By the Station." 
Down at the barnyard, early in the morning, 
See the chicken family all in a row. 
See the mommy chicken, 
She is called a rooster, 
"Cluck, cluck, cluck!" and off she goes! 
Additional Verses: 
Daddy/Rooster/Cock-a-Doodle Doo! 
Baby/Chick/Peep, Peep, Peep 
Ms. Autumn used stick puppet props for her chickens. 
Children can follow along with three fingers on their hand, each representing a chicken. 
When the chicken runs off, put that finger down. Wiggle your fingers to make them dance!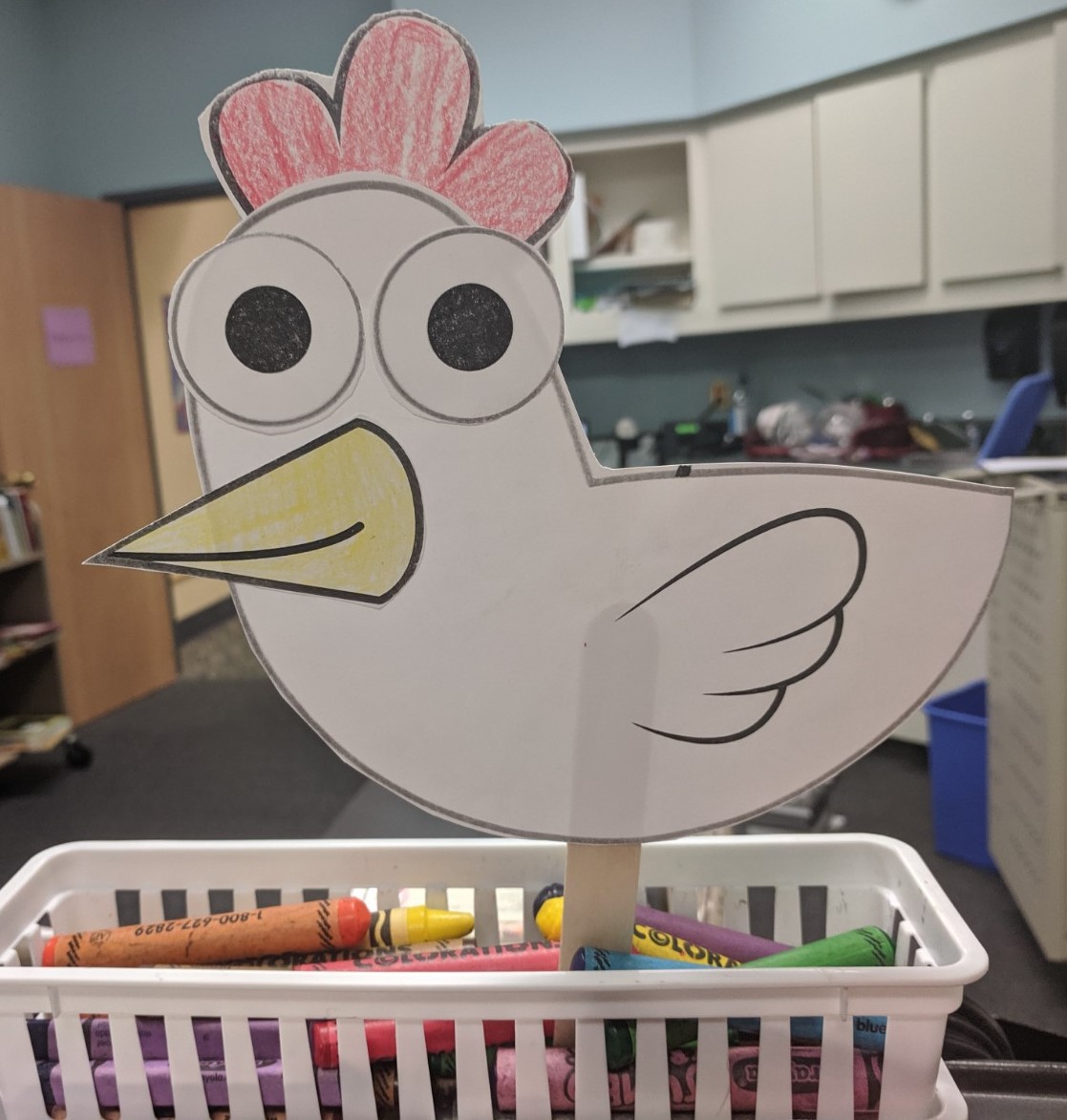 Egg Shaker Song: "I Know a Chicken" by Laurie Berkner 
Learn about where chickens come from while getting your wiggles out!
Laurie Berkner is a talented children's artist. Her interactive songs always get the kids moving! 
You can listen to "I Know a Chicken" and more Berkner hits on her album Whaddaya Think of That? 
Craft: Chicken Stick Puppet 
Our youngest artists enjoyed making their own chicken stick puppets! 
Simply draw and cut out the individual pieces for the chicken. 
Children will color and assemble with glue. Add a popsicle stick and your puppet is ready! 
Ms. Autumn loves using big eyes for a silly look! 
And of course, Big Z stuck around after storytime to take pictures with his new friends. We loved his company and can't wait for him to visit again!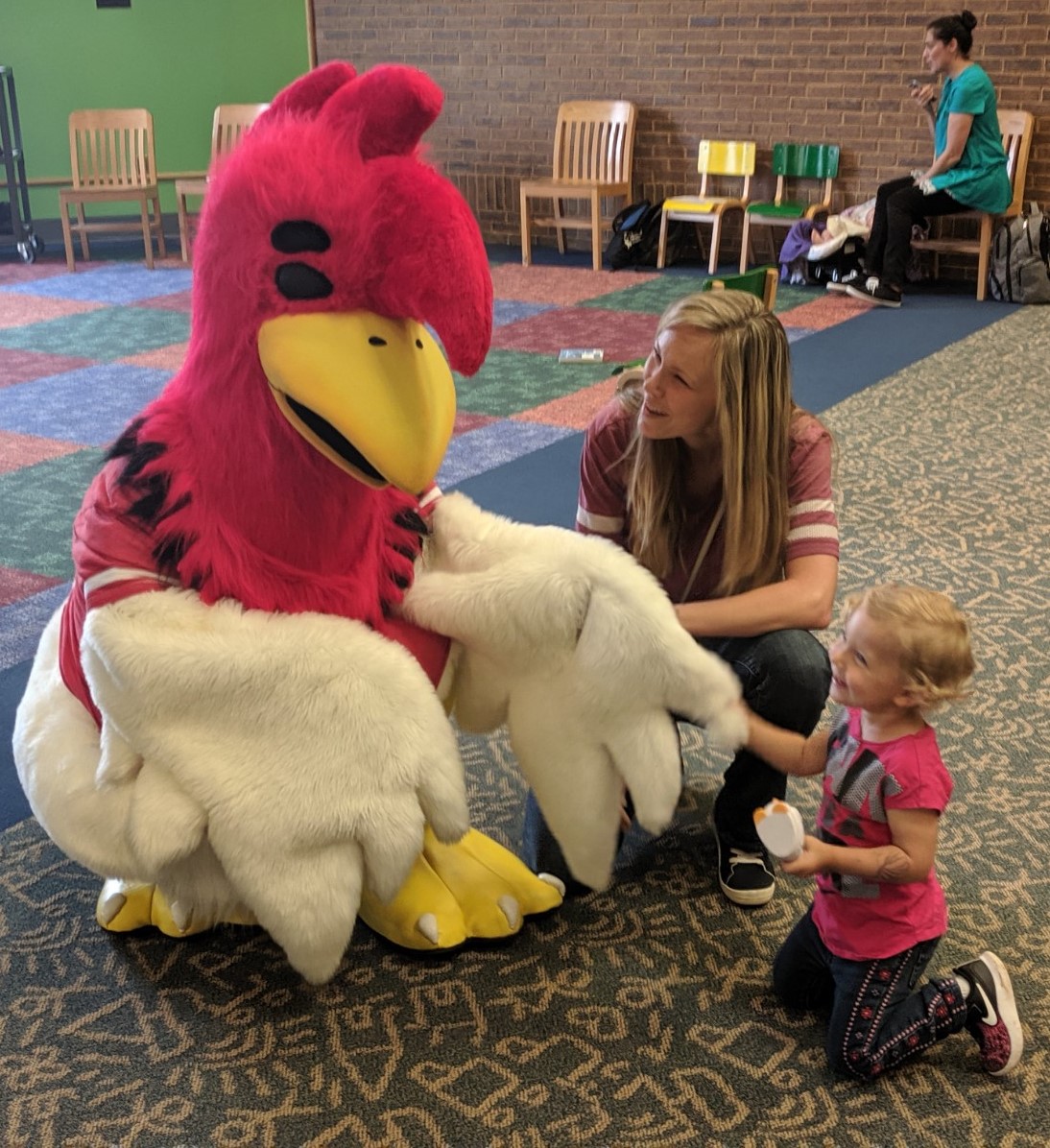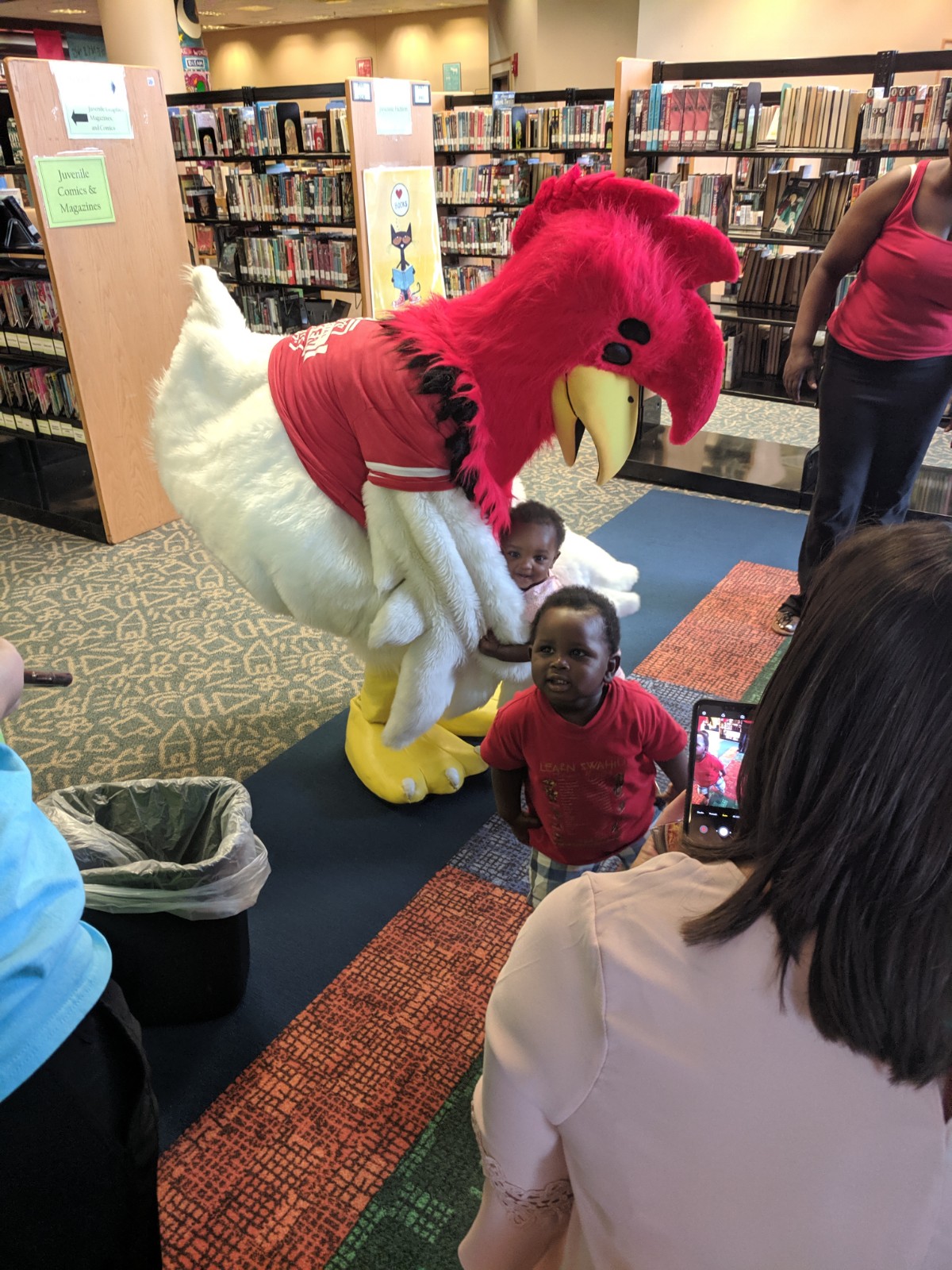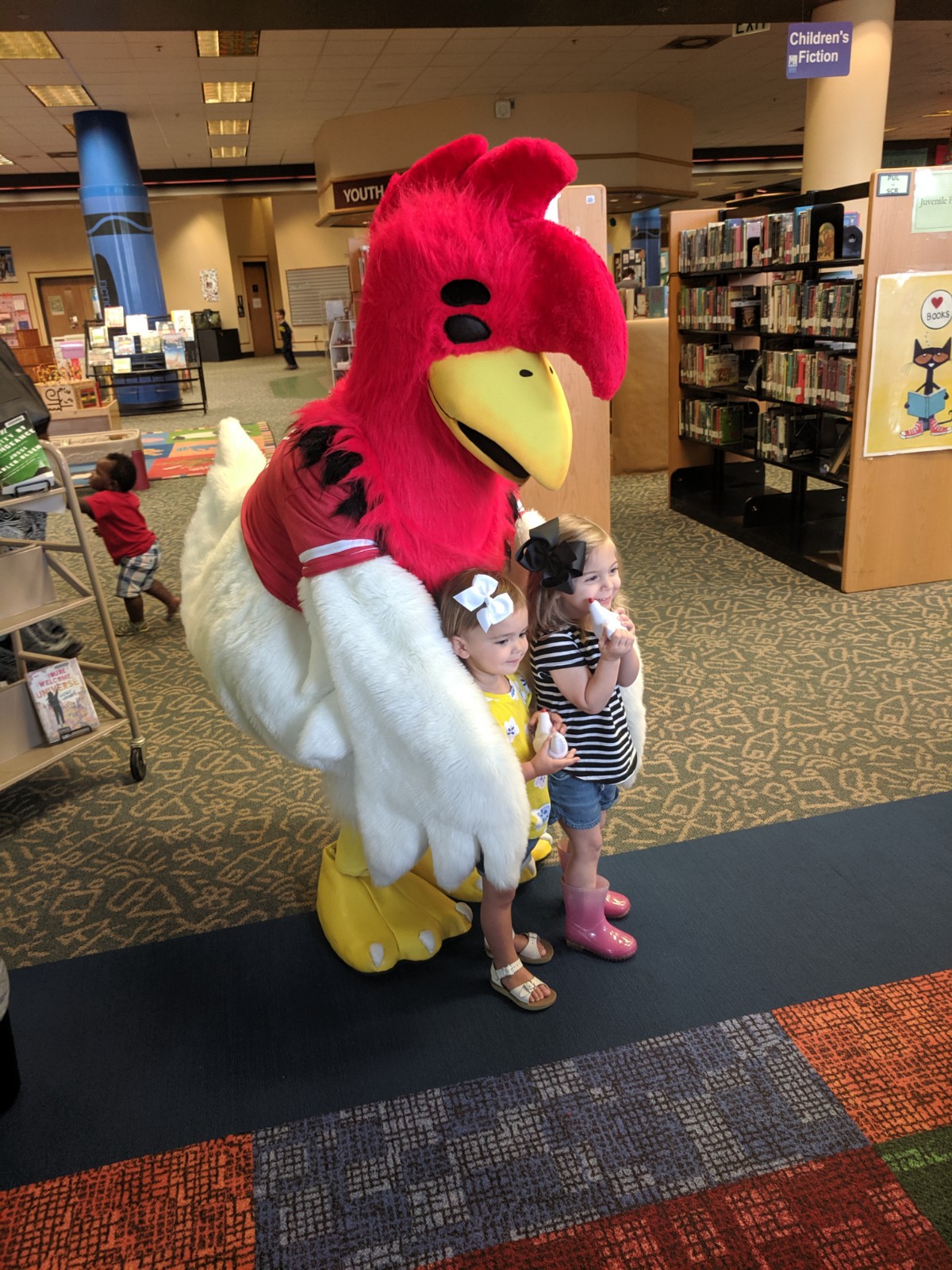 HMCPL offers a variety of storytimes at our different locations. To find a storytime near you, please visit our children's events calendar.