Stranger Things 3 - Let's Do the Time Warp Again!
Posted on:

15 July 2019

By:

Jon Schafle
The third season of the Netflix series, "Stranger Things" was just released in time for the Independence Day and is a thrill ride of 80's nostalgia! Whether you've already binged the entire season in one day, are working through it slowly or haven't started it yet, we've curated some of our favorite library materials to fully immerse yourself in the world of "Stranger Things!" If you're looking to catch up, we have both the first and second seasons in the system as well as the officially licensed book and comic book that give you a look at even more of the back story of the peculiar events in Hawkins: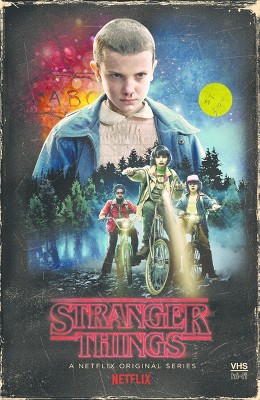 The first season begins in November 1983, when researchers at Hawkins National Laboratory open a rift to the "Upside Down", an alternate dimension. A monster from the Upside Down escapes and abducts a boy named Will Byers. His mother, Joyce, and the town's police chief, Jim Hopper, search for Will. At the same time, a young psychokenetic girl called Eleven escapes from the laboratory and assists Will's friends, Mike, Dustin, and Lucas, in their own efforts to find Will.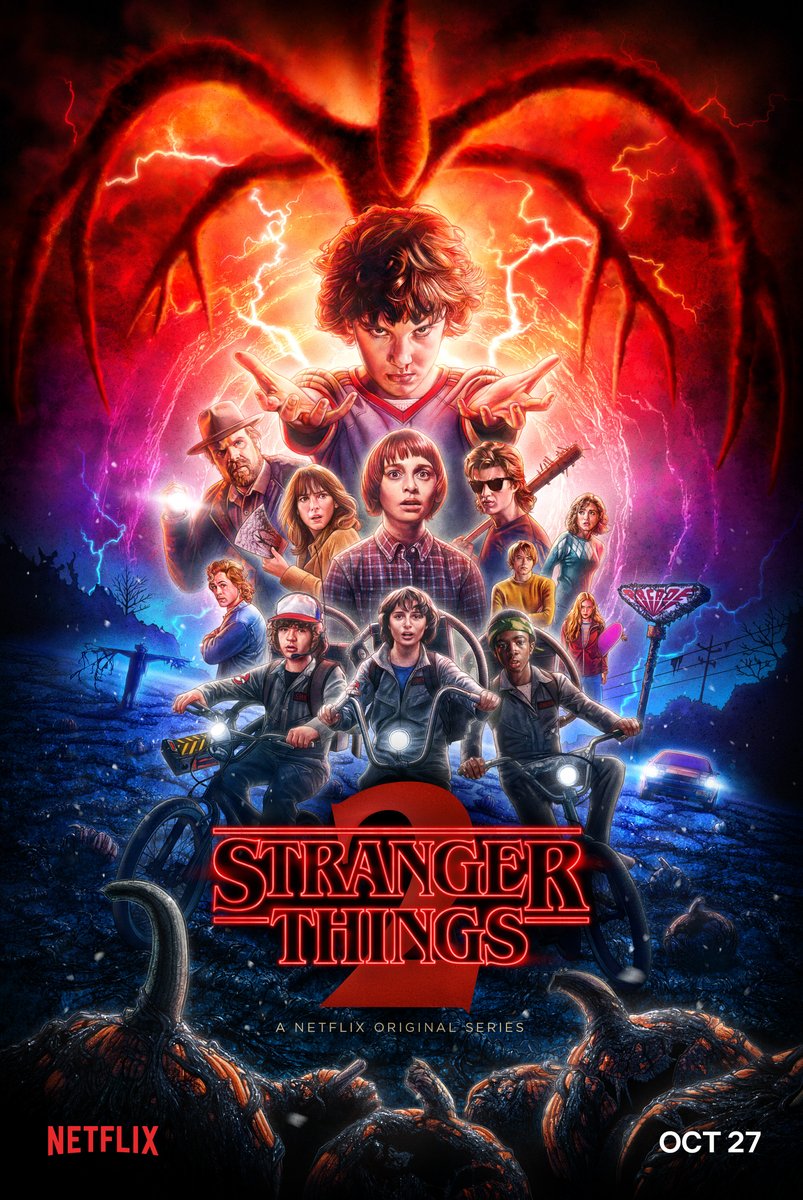 On October 29, 1984, Will Byers finds himself the target of the Upside Down a year after his disappearance as a large tentacled figure named the Mind Flayer soon terrorizes the citizens of Hawkins, drawing back Joyce and Hopper along with Mike's sister Nancy, Will's brother Jonathan, and Nancy's boyfriend Steve, as well as Will's close friends; Mike, Dustin and Lucas. The group along with Californian newcomer Max as well as a missing Eleven must join forces once again to prevent the threat from increasing.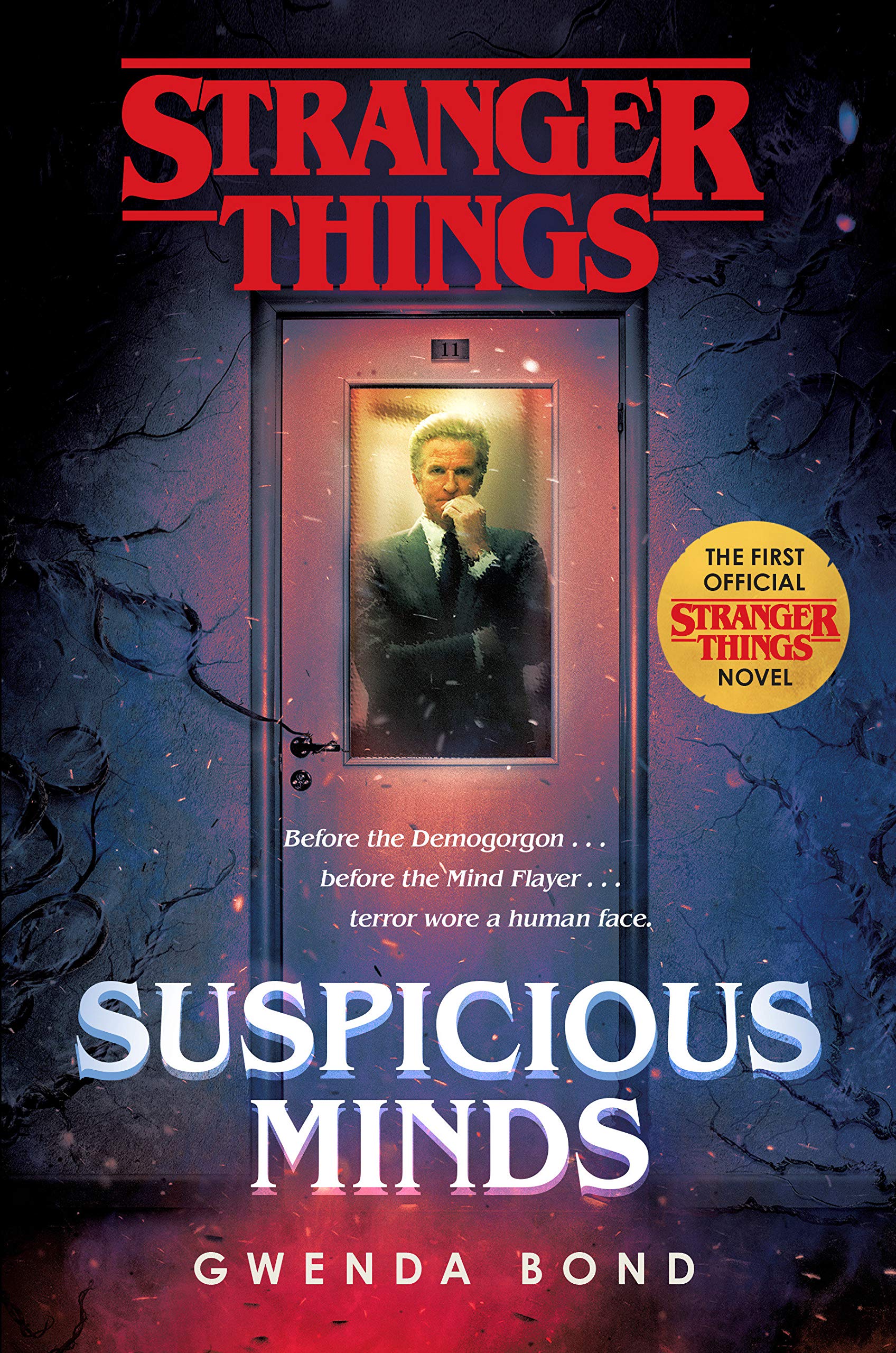 Stranger Things: Suspicious Minds -
It's the summer of 1969, and the shock of conflict reverberates through the youth of America. As a student at a quiet college campus in the heartland of Indiana, Terry Ives couldn't be farther from the front lines of Vietnam or the protests in Washington. But the world is changing, and Terry isn't content to watch. When word gets around about an important government experiment in the small town of Hawkins, she signs on as a test subject for the project, code-named MKULTRA. The remote lab, deep in the woods, contains a mystery Terry is determined to uncover. Behind the walls of Hawkins National Laboratory—and the piercing gaze of its director, Dr. Martin Brenner—lurks a conspiracy greater than Terry could have ever imagined. To face it, she'll need the help of her fellow test subjects, including a young girl with unexplainable superhuman powers and a number instead of a name: 008.  Amid the rising tensions of the new decade, Terry Ives and Martin Brenner have begun a different kind of war—one where the human mind is the battlefield.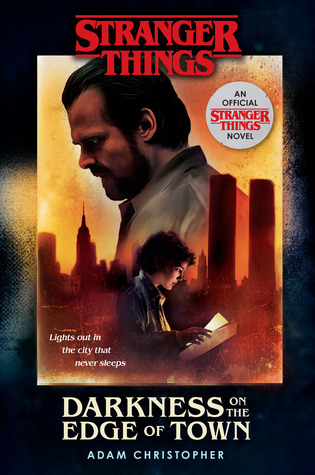 Stranger Things: Darkness on the Edge of Town -
Chief Jim Hopper reveals long-awaited secrets to Eleven about his old life as a police detective in New York City, confronting his past before the events of the hit show Stranger Things.
Christmas, Hawkins, 1984. All Chief Jim Hopper wants is to enjoy a quiet first Christmas with Eleven, but his adopted daughter has other plans. Over Hopper's protests, she pulls a cardboard box marked "New York" out of the basement—and the tough questions begin. Why did Hopper leave Hawkins all those years ago? What does "Vietnam" mean? And why has he never talked about New York? Although he'd rather face a horde of demogorgons than talk about his own past, Hopper knows that he can't deny the truth any longer. And so begins the story of the incident in New York—the last big case before everything changed. . . .
Summer, New York City, 1977. Hopper is starting over after returning home from Vietnam. A young daughter, a caring wife, and a new beat as an NYPD detective make it easy to slip back into life as a civilian. But after shadowy federal agents suddenly show up and seize the files about a series of brutal, unsolved murders, Hopper takes matters into his own hands, risking everything to discover the truth. Soon Hopper is undercover among New York's notorious street gangs. But just as he's about to crack the case, a blackout rolls across the boroughs, plunging Hopper into a darkness deeper than any he's faced before.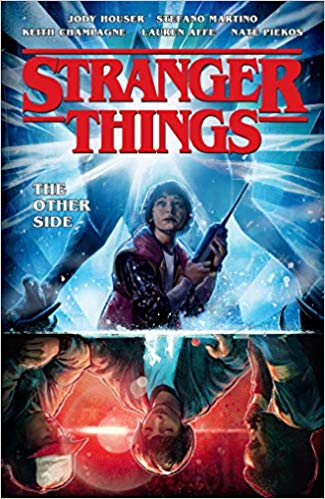 Stranger Things Vol. 1: The Other Side- 
The hit Netflix series from the Duffer Brothers is now a spine-tingling comic that recounts Will Beyers' harrowing survival in the treacherous Upside Down! When Will Byers finds himself in the Upside Down, an impossible dark parody of his own world, he's understandably frightened. But that's nothing compared with the fear that takes hold when he realizes what's in that world with him! 
Without spoiling too much about the new season, take a look at some of the movies and shows that have strong influences throughout these new batch of episodes that are currently available in our catalog:
Invasion of the Body Snatchers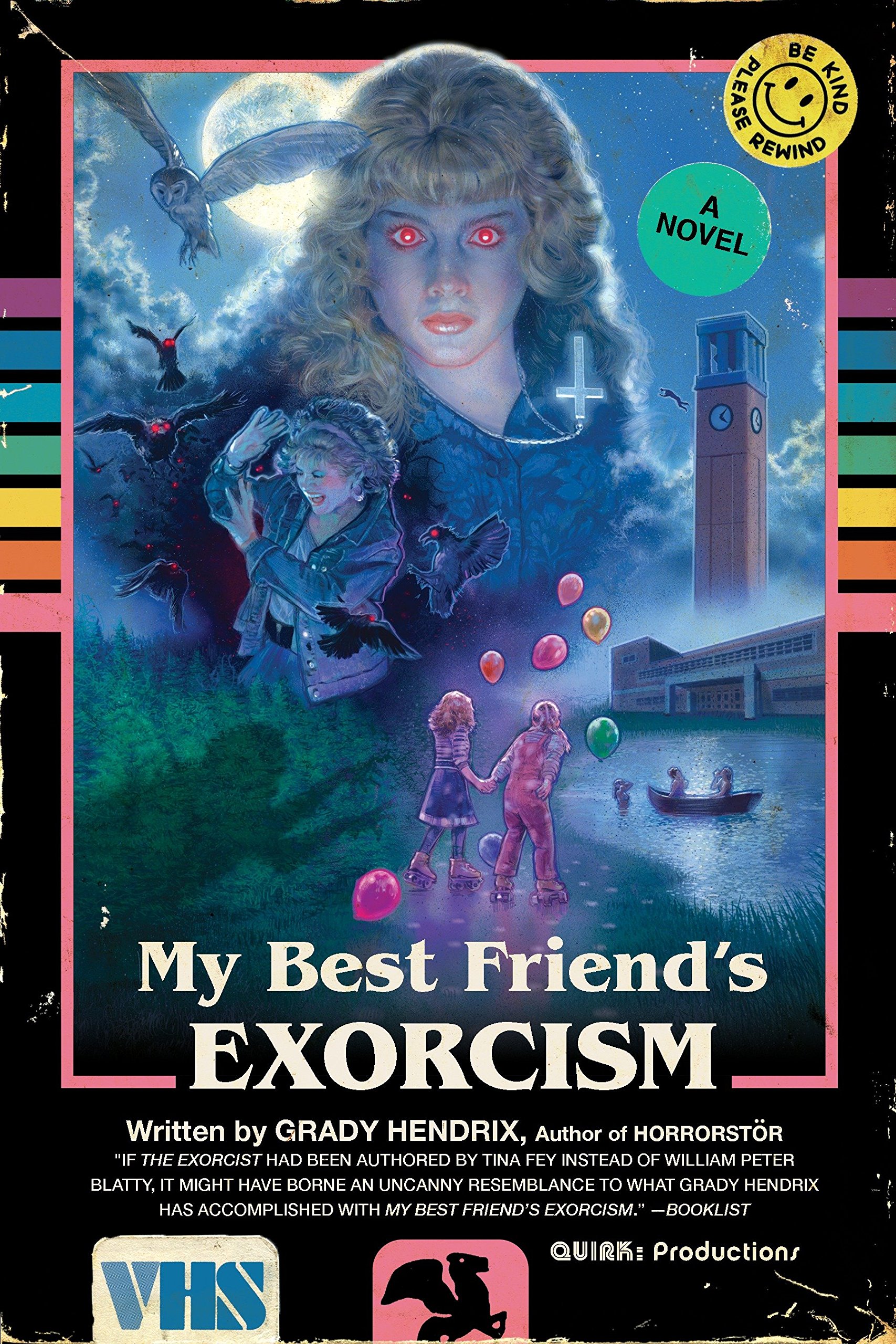 Looking to quench your thirst for some read-alikes or more references from season three - like downing a New Coke on a hot summer's day? Look no further.... 
Akira by Katsuhiro Otomo - Welcome to Neo-Tokyo, built on the ashes of a Tokyo annihilated by a blast of unknown origin that triggered World War III. The lives of two streetwise teenage friends, Tetsuo and Kaneda, change forever when paranormal abilities begin to waken in Tetsuo, making him a target for a shadowy agency that will stop at nothing to prevent another catastrophe like the one that leveled Tokyo. At the core of the agency's motivation is a raw, all-consuming fear of an unthinkable, monstrous power known only as Akira.
A Boy's Life by Robert McCammon - Zephyr, Alabama, is an idyllic hometown for eleven-year-old Cory Mackenson -- a place where monsters swim the river deep and friends are forever. Then, one cold spring morning, Cory and his father witness a car plunge into a lake -- and a desperate rescue attempt brings his father face-to-face with a terrible, haunting vision of death. As Cory struggles to understand his father's pain, his eyes are slowly opened to the forces of good and evil that surround him. From an ancient mystic who can hear the dead and bewitch the living, to a violent clan of moonshiners, Cory must confront the secrets that hide in the shadows of his hometown -- for his father's sanity and his own life hang in the balance.... 
Dungeons & Dragons Player's Handbook (5th Edition) by James Wyatt - The Player's Handbook® is the essential reference for every Dungeons & Dragons® roleplayer. It contains rules for character creation and advancement, backgrounds and skills, exploration and combat, equipment, spells, and much more. Use this book to create exciting characters from among the most iconic D&D® races and classes. Dungeons & Dragons immerses you in a world of adventure. Explore ancient ruins and deadly dungeons. Battle monsters while searching for legendary treasures. Gain experience and power as you trek across uncharted lands with your companions. The world needs heroes. Will you answer the call?
The Hobbit, or There & Back Again by J.R.R. Tolkein - In a hole in the ground there lived a hobbit. Not a nasty, dirty, wet hole, filled with the ends of worms and an oozy smell, nor yet a dry, bare, sandy hole with nothing in it to sit down on or to eat: it was a hobbit-hole, and that means comfort. Written for J.R.R. Tolkien's own children, The Hobbit met with instant critical acclaim when it was first published in 1937. Now recognized as a timeless classic, this introduction to the hobbit Bilbo Baggins, the wizard Gandalf, Gollum, and the spectacular world of Middle-earth recounts of the adventures of a reluctant hero, a powerful and dangerous ring, and the cruel dragon Smaug the Magnificent.
Meddling Kids by Edgar Cantero - 1990. The teen detectives once known as the Blyton Summer Detective Club (of Blyton Hills, a small mining town in the Zoinx River Valley in Oregon) are all grown up and haven't seen each other since their fateful, final case in 1977. Andy, the tomboy, is twenty-five and on the run, wanted in at least two states. Kerri, one-time kid genius and budding biologist, is bartending in New York, working on a serious drinking problem. At least she's got Tim, an excitable Weimaraner descended from the original canine member of the team. Nate, the horror nerd, has spent the last thirteen years in and out of mental health institutions, and currently resides in an asylum in Arhkam, Massachusetts. The only friend he still sees is Peter, the handsome jock turned movie star. The problem is, Peter's been dead for years. The time has come to uncover the source of their nightmares and return to where it all began in 1977. This time, it better not be a man in a mask. The real monsters are waiting.
My Best Friend's Exorcism by Gray Hendrix - Abby and Gretchen have been best friends since fifth grade, when they bonded over a shared love of E.T., roller-skating parties, and scratch-and-sniff stickers. But when they arrive at high school, things change. Gretchen begins to act…different. And as the strange coincidences and bizarre behavior start to pile up, Abby realizes there's only one possible explanation: Gretchen, her favorite person in the world, has a demon living inside her. And Abby is not about to let anyone or anything come between her and her best friend. With help from some unlikely allies, Abby embarks on a quest to save Gretchen. But is their friendship powerful enough to beat the devil?
Ready Player One by Ernest Cline - In the year 2044, reality is an ugly place. The only time teenage Wade Watts really feels alive is when he's jacked into the virtual utopia known as the OASIS. Wade's devoted his life to studying the puzzles hidden within this world's digital confines, puzzles that are based on their creator's obsession with the pop culture of decades past and that promise massive power and fortune to whoever can unlock them. But when Wade stumbles upon the first clue, he finds himself beset by players willing to kill to take this ultimate prize. The race is on, and if Wade's going to survive, he'll have to win—and confront the real world he's always been so desperate to escape.
Something Wicked This Way Comes by Ray Bradbury - A carnival rolls in sometime after the midnight hour on a chill Midwestern October eve, ushering in Halloween a week before its time. A calliope's shrill siren song beckons to all with a seductive promise of dreams and youth regained. In this season of dying, Cooger & Dark's Pandemonium Shadow Show has come to Green Town, Illinois, to destroy every life touched by its strange and sinister mystery. And two inquisitive boys standing precariously on the brink of adulthood will soon discover the secret of the satanic raree-show's smoke, mazes, and mirrors, as they learn all too well the heavy cost of wishes - and the stuff of nightmare.
We Have Always Lived in the Castle by Shirley Jackson - My name is Mary Katherine Blackwood. I am eighteen years old, and I live with my sister Constance. I have often thought that with any luck at all I could have been born a werewolf, because the two middle fingers on both my hands are the same length, but I have had to be content with what I had. I dislike washing myself, and dogs, and noise, I like my sister Constance, and Richard Plantagenet, and Amanita phalloides, the death-cup mushroom. Everyone else in my family is dead.
Wonder Woman by George Perez Volume 1 - Wonder Woman's first assignment in this new series takes her to Man's World, to teach humanity the ways of the goddess Gaea--no matter who objects. This omnibus collects the start of Pérez's acclaimed run on Wonder Woman, presenting a thrilling new vision of the Amazon Warrior, in these stories from WONDER WOMAN #1-14 from the mid-1980s.