Blast Off Book Festival returns to the Madison Public Library
Posted on:

5 March 2020

By:

Melanie Thornton
Blast Off Book Festival returns to the Madison Public Library on March 7
The author of Lunch Lady, Jedi Academy series Jarrett Krosoczka is guest author
MADISON, Ala. (March 5, 2020) - The Huntsville-Madison County Public Library is pleased to host the second annual Blast Off Book Festival on Saturday, March 7 at 10:30 a.m. at the Madison Public Library, 142 Plaza Blvd. Jarrett Krosoczka will be the guest speaker at this free event aimed for children of all ages.
"The Library's goal is to host an annual book festival, a free festival for the children in Madison County," said Sarah Sledge, the Madison Public Library's branch manager and festival organizer. "We hope to be able to expand it in the coming years to Huntsville and the surrounding communities."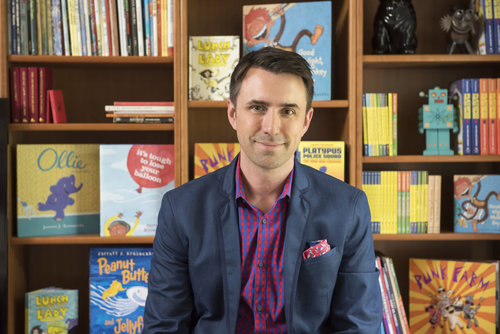 Sledge says that opportunities to meet authors face to face is exciting for children and help inspire not only a love of literacy, but a love for the arts. "Somewhere out there in the audience is a child who may want to be an author when they grow up and they will remember this event- that is our hope."
Doors will open at 10:00 a.m. and is limited to the first 350 attendees due to space limitations. Jarrett will be talking about how he brings his characters to life through stories and demonstrating how he illustrates these characters. He will also be taking questions and signing books at the end of the talk.
This event is sponsored by the Huntsville Library Foundation, the Madison City School District and the Madison Friends of the Library. Second, third and sixth grade students in the Madison City School system will have a chance to see Jarrett on Friday, March 6 at the Bob Jones High School Auditorium through a school-sponsored field trip.
Last year, in its debut, the Blast Off Book Festival hosted famed Arthur creator Marc Brown. Over 2000 children were able to attend the three sessions over a two-day period.
Event details will be posted at hmcpl.org/blastoff
About the author:
New York Times best-selling author/illustrator Jarrett J. Krosoczka creates books with humor, heart, and a deep respect for his young readers—qualities that have made his titles perennial favorites on the bookshelves of homes, libraries, and bookstores. Titles include several picture books, his wildly popular Lunch Lady graphic novels, and the Platypus Police Squad middle-grade novels. He also recently launched a new story arc in the Jedi Academy series with Star Wars™: Jedi Academy: A New Class. His most recent book, Hey, Kiddo (Oct 2018), is a graphic memoir about growing up in a family grappling with addiction, and finding the art that helps you survive. Hey, Kiddo was a finalist for the 2018 National Book Award for Young People's Literature.
Please visit Jarrett's website for more information about his work.