Random Acts of Kindness in Children's Nonfiction
Posted on:

22 February 2021

By:

Laura Noble
I didn't know Random Acts of Kindness Day, which happens on February 17 this year, even existed until very recently. Of course, I know there are people who choose to be kind every day, but I had no idea it was an official day! So I found out more. As any modern person does, I searched online. Discovering the Random Acts of Kindness Foundation was pretty exciting for me! On their website, the Foundation shares tons of resources including real-life stories, downloadable materials, and many celebrations of kindness you can see and do in every day life. This got me thinking of the types of stories and inspirations we at the library have to offer for Random Act of Kindness Day. Of course, the library has many materials to choose from. However, I am including in this particular blog only children's nonfiction books. This, I think, will provide a great starting point to learn what it means to be kind and how to be kind.
Kindergarten had a lot of lessons. Most of what I remember are stories and tales.  One of the first was "The Golden Rule." While we all probably know this rule, how much do we know behind the phrase and the originator? Russell Freedman write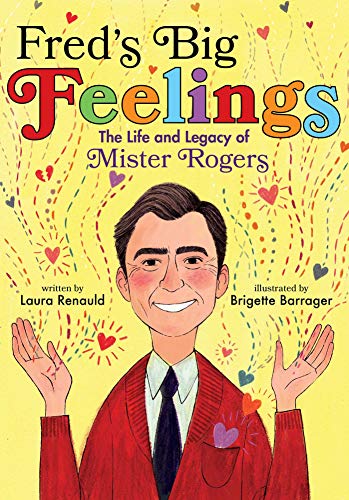 s a very intelligent children's biography Confucius: The Golden Rule detailing Confucius's life and impact in an engaging way. Kids will enjoy the illustrations, completed by Frédéric Clément, as they learn about kindness and philosophy put into action. Two people immediately thought of as kind are certainly Fred Rogers and Mother Teresa. Their kindness, and in turn their actions are influential to many. Old and young readers alike will enjoy Fred's Big Feelings: The Life and Legacy of Mister Rogers by Laura Renauld. This picture book biography is a colorful and exciting read perfect for reading together. The book shares how Rogers' openness and acceptance has positively impacted generations of Mister Rogers' viewers.
Having attained sainthood, Mother Teresa is often held up as an ideal. Her acts throughout the world have been recognized and praised for their influence.  Not taking away from the work she accomplished, the truth is that her acts of kindness are doable by anyone. Check out Demi's biography Mother Teresa to find out more on just what she did do. You may see these acts and realize they are completely attainable by any of us in similar ways. We are all capable of her kindness. This biography is beautifully illustrated with images being surrounded in golden frames, but it is the story of her meaningful life that makes this biography interesting. 

Modern life may make many critics, but there are stories of everyday, ordinary people practicing kindness. You don't have to be a well-known religious leader like Mother Teresa or a television host like Fred Rogers to make the world better through kindness. In a new library addition, Channel Kindness: Stories of Kindness and Community, there's a particular quote that Lady Gaga makes that really encapsulates the purpose behind the choice to be kind and act of that. "Don't just respond with kindness: fill the empty with it." Readers looking to be inspired with ideas on what to do should check this out in addition to other great titles including How to be a Friend, Cookies: Bite-sized Life Lessons, and Hello, Neighbor!: the Kind and Caring World of Mister Rogers. Life lessons don't have to be hard. It's in the simplest things we can do that make us kinder. Share a cookie or lend a listening ear. As Aesop once said, "no act of kindness, no matter how small, is ever wasted."
Find the list of all book titles mentioned above on our library catalog by clicking here: Random Acts of Kindness