To the Moon: Snoopy Soars with NASA
Posted on:

3 June 2019

By:

Melanie Thornton
To the Moon: Snoopy Soars with NASA exhibition opens at the Downtown Huntsville Library

The Huntsville-Madison County Public Library (HMCPL) and the Greater Huntsville Humane Society (GHHS) are joining forces to bring a new exhibition titled To the Moon: Snoopy Soars with NASA to the Downtown Huntsville Library from June 2 until July 27.
Just before the first man landed on the moon, Charlie Brown and Snoopy soared through space with NASA's Apollo 10 mission in May 1969. The exhibition To the Moon: Snoopy Soars with NASA examines the history of Apollo 10 and the Peanuts characters' role in that flight and in the NASA Manned Flight Awareness safety program.
"GHHS is thrilled to partner with HMCPL on this special NASA exhibit that highlights a world famous beagle named Snoopy," said Jill Gardner, CEO of the GHHS. "We encourage children of all ages to see Snoopy's mission into space with Apollo 10.  And we invite children to visit their branch library this summer and check out more books, as well as join the Paws for Reading program and read to the dogs at GHHS."
"We are very excited to be showcasing this exhibit with the GHHS, especially in Huntsville as we celebrate our role in space history," said Connie Chow, Downtown's Branch Manager. "It will be a nice addition to our summer reading program as we hope to draw children and families visiting our library to the exhibit."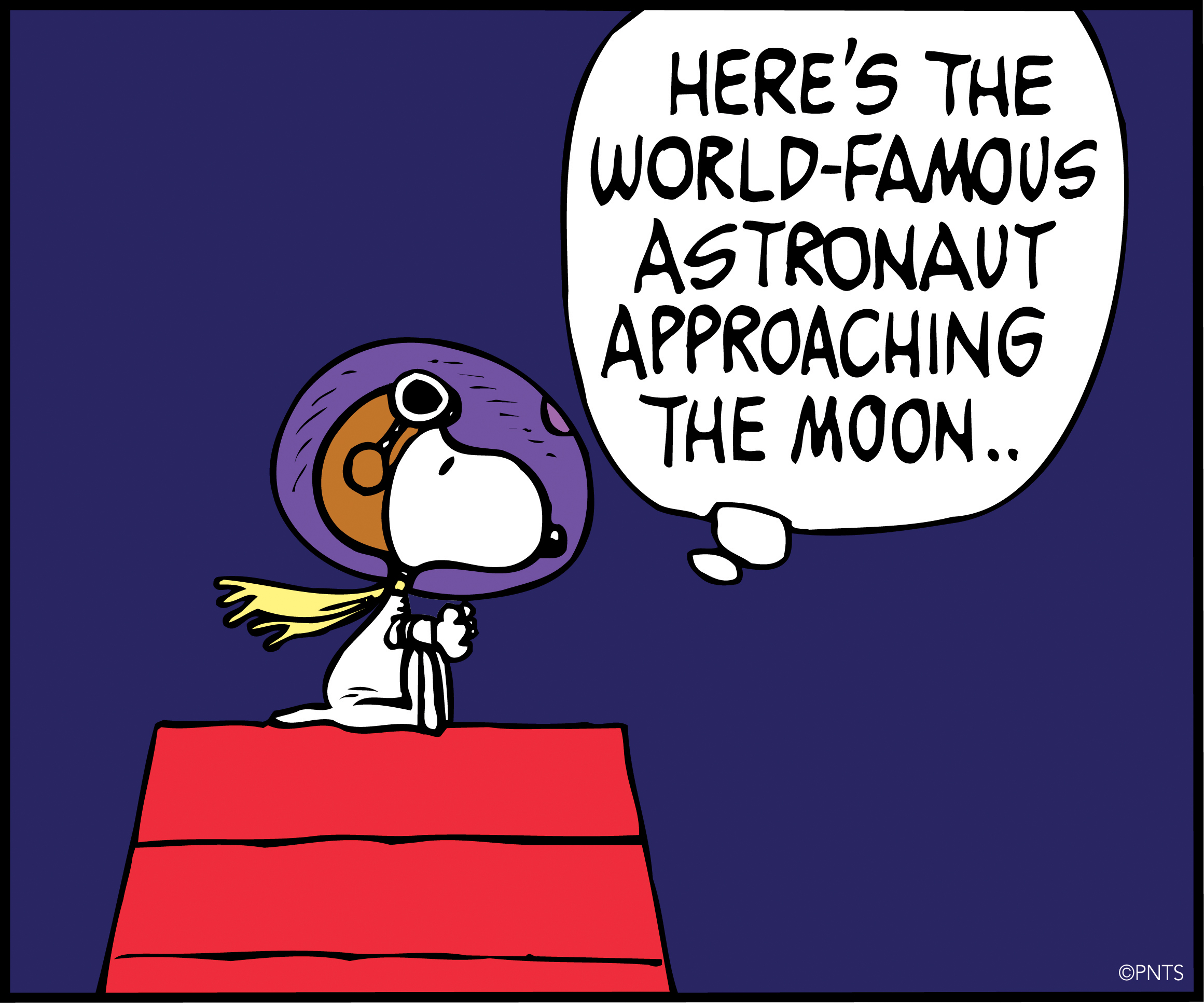 It is difficult to imagine—although some remember it well—the excitement that the race for the moon invoked fifty years ago. As the decade of the 1960s was coming to a close, America and the rest of the world waited with great anticipation to see if NASA could achieve President John F. Kennedy's challenge, put forth in May 1961, of putting a man on the moon by the end of the decade. Consequently, it was a very great honor, indeed, when the crew of Apollo 10 chose to nickname their command and lunar modules Charlie Brown and Snoopy, respectively. The flight of Apollo 10 in May 1969 was the "dress rehearsal" for the lunar landing that was scheduled for July 1969. Astronauts Thomas Stafford and Eugene Cernan piloted Snoopy within 50,000 feet of the lunar surface as they scouted the landing area for Apollo 11 while John Young orbited the moon in the command module Charlie Brown.
Charles Schulz's involvement with NASA began a year earlier than the 1969 flight of Apollo 10 when he was approached by NASA with a request to use Snoopy as their safety mascot. The Silver Snoopy Award program was instituted to improve the safety record of NASA employees and contractors. It proved to be a huge success with the astronauts and the employees. The Silver Snoopy pin is a much coveted award. Snoopy has been on the job for 50 plus years and continues to this day in his role as NASA's safety mascot.
In To the Moon: Snoopy Soars with NASA, visitors will see Snoopy's trip to the moon in the March 1969 Peanuts strip series (besting NASA's record by a few months!) and learn about the NASA's Silver Snoopy Award program.
To the Moon: Snoopy Soars with NASA is organized and toured by the Charles M. Schulz Museum and Research Center, Santa Rosa, California. In cooperation with NASA's Marshall Space Flight Center, a few objects from their collection will also be on display. This exhibit is sponsored by The Huntsville Library Foundation, RUAG Space USA , ServisFirst Bank and Colonial Printing. It is also an official Alabama Bicentennial program.
About Huntsville-Madison County Public Library
This is the public's library. Huntsville-Madison County Public Library (HMCPL) is a nonprofit 12-branch system that serves all of Madison County, Ala. For 200 years, the library has been dedicated to enriching the educational, recreational and cultural lives of communities in Madison County through materials, information and programs that foster a lifelong love of learning. In addition to the collection of over 500,000 items, HMCPL also provides outreach services, a BookMobile and BookBike, online services, training, an extensive digital collection, public-use computers, free Wi-fi, meeting spaces and much more. For more information about HMCPL and its services, please visit hmcpl.org.
About the Greater Huntsville Humane Society
The Greater Huntsville Humane Society is a 501(c)3 no-kill animal shelter dedicated to furthering the humane care and treatment of animals, as well as providing an adoption program for homeless animals.  GHHS was established more than fifty years ago and provides care for approximately 750 homeless animals annually.  The Thrift Store along with Fundraisers, The Dog Ball, Pet Photo Contest and Girlfriends for Furry Friends, help support all of the Shelter' programs and services.  GHHS provides services to low income families through its Helping Paws programs.  These programs include: a Pet Wellness Clinic, King's Kitchen, Pet Food Bank and Good Samaritan Certificates for emergency vet care. In addition, we have two education programs: Paws for Reading and Lucky Dog. Paws for Reading provides school age children the opportunity to read to a non-judgmental listener, a dog or cat.   The Lucky Dog program is a pet care education program presented to school aged children.  For more information about GHHS and its programs and services, please visit www.ghhs.org.