School of Rock: Picture Books to Introduce Your Kids to Your Favorite Music
Posted on:

26 February 2021

By:

Jon Schafle
During the quarantine last year I took the time at home to practice my sewing and stitch one a bunch of band patches to my denim jackets and decided to make it into one of our library guides when I got back, showing how to make your own battle jacket and I even complied some lists of heavy metal and punk inclined reading for our youth, young adult and adult collections (you can find the full guide here). Below I've curated some of my favorite family friendly titles to share with your children to introduce them to some of your favorite genres and artists...though I must admit I am a bit partial to punk and metal:
Picture Books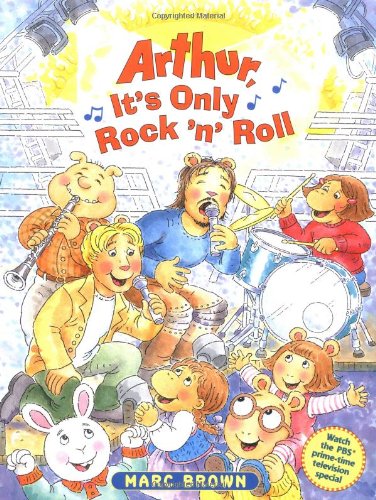 Arthur, It's Only Rock N' Roll by Marc Brown
Based on the primetime PBS television special coming this fall, this tie-in book finds Arthur yearning to join a rock band started by Francine. But Arthur doesn't make it through the auditions and Francine chooses Molly, Binky, Fern, and Mrs. MacGrady instead. Then the Backstreet Boys come to Elwood City and change "everything!"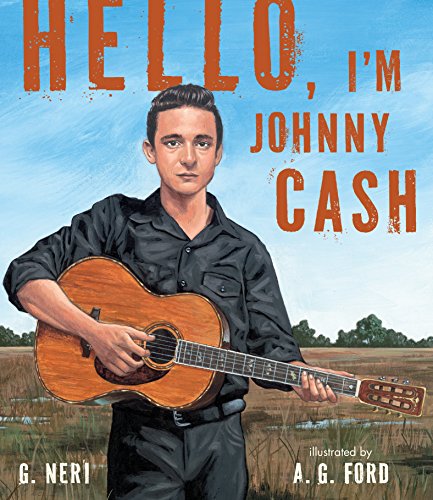 Hello, I'm Johnny Cash by G. Neri & A.G. Ford
There's never been anyone like music legend Johnny Cash. His deep voice is instantly recognizable, and his heartfelt songs resonate with listeners of all ages and backgrounds. G. Neri captures Johnny's story in beautiful free verse, portraying an ordinary boy with an extraordinary talent who grew up in extreme poverty, faced incredible challenges, and ultimately found his calling by always being true to the gift of his voice. A. G. Ford's luscious paintings of the dramatic southern landscape of Johnny Cash's childhood illuminate this portrait of a legend, taking us from his humble beginnings to his enormous success on the world stage.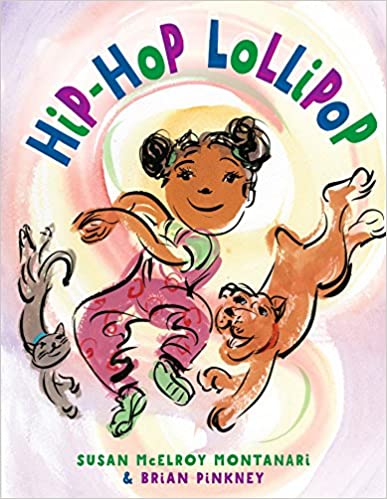 Hip Hop Lollipop by Susan McElroy Montanari & Brian Pinkney
Watch as Lollipop grooves her way through her bedtime routine, brushing her teeth to the beat and shimmying into pjs. She sways along with her sister, her parents, and even some enthusiastic pets until, finally, Lollie closes her eyes and dances through her dreams. Susan Montanari and Caldecott Honor winner Brian Pinkney offer a playful bedtime read-aloud that perfectly captures the joy of music, movement, and family.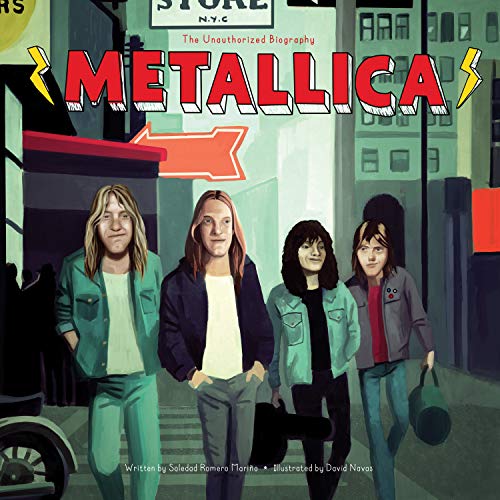 Metallica: The Unauthorized Biography by Soledad Romero Mariño & David Navas
From the day that Lars Ulrich stepped off the tennis court and into the record store, to his epic meeting with James Hetfield and their claim on pure Heavy Metal, Metallica has reigned supreme with their strength and explosive sound. Metalheads and new fans alike will shred through the story of Metallica, the power of their music, and their place as legends.
Punk Farm by Jarrett J. Krosoczka
After a long day of work, Farmer Joe goes home to bed.
But meanwhile, back at the barn . . .
Cow sets up her drums.
Pig plugs in his amp.
Goat tunes his bass.
Chicken sets up her keyboards.
And Sheep checks the microphone.
They are Punk Farm and tonight they're ready to ROCK! With adorable farm animals - and a surprise tribute to Old MacDonald - this rollicking tale is sure to have kids cheering--and singing--along.
Punk Farm on Tour by Jarrett J. Krosoczka
Farmer Joe is heading off to a Tractor Society Conference in Reno. But meanwhile, back at the farm...Cow, Sheep, Pig, Goat, and Chicken are getting ready to rock across the U.S.A. as they set out on a Punk Farm tour! Only, their beat-up old tour van is threatening to ruin their plans. Can the wheels on the van go round and round all the way from Maine to Colorado?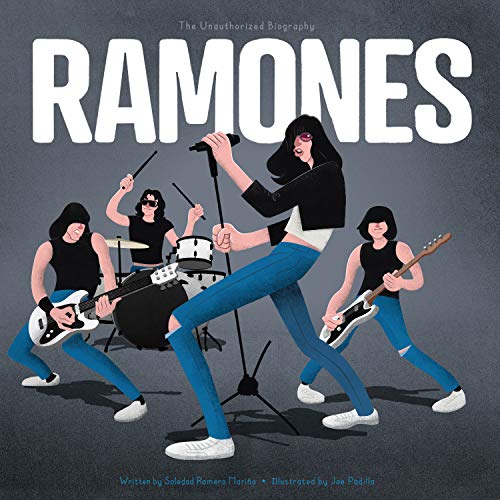 Ramones: The Unauthorized Biography by Soledad Moreno Mariño & Joe Padilla
The Ramones are punk rock. It started in Queens, New York in the early seventies. Four shy boys who couldn't even play instruments got a couple guitars, found some ripped jeans and black leather jackets, and took over the world of punk. Lifelong rockers and new fans alike will love learning more about Joey, Johnny, Tommy, and Dee Dee and their journey to change the world of punk rock forever. So hurry, hurry, hurry, turn up the volume, and discover why their legendary music will continue to live on for generations to come.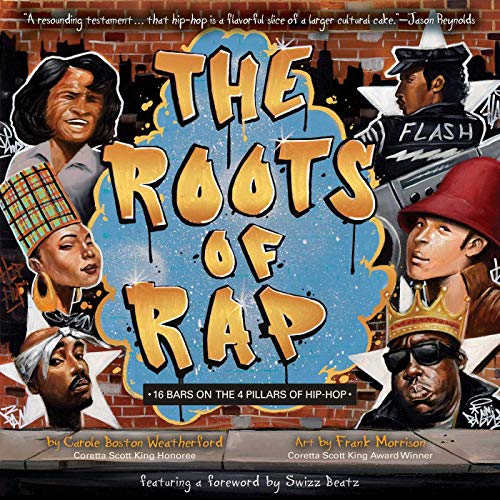 Roots of Rap:16 Bars on the 4 Pillars of Hip Hop by Carole Boston Weatherford & Frank Morrison
The roots of rap and the history of hip-hop have origins that precede DJ Kool Herc and Grandmaster Flash. Kids will learn about how it evolved from folktales, spirituals, and poetry, to the showmanship of James Brown, to the culture of graffiti art and break dancing that formed around the art form and gave birth to the musical artists we know today. Written in lyrical rhythm by award-winning author and poet Carole Boston Weatherford and complete with flowing, vibrant illustrations by Frank Morrison, this book beautifully illustrates how hip-hop is a language spoken the whole world 'round, it and features a foreward by Swizz Beatz, a Grammy Award winning American hip-hop rapper, DJ, and record producer.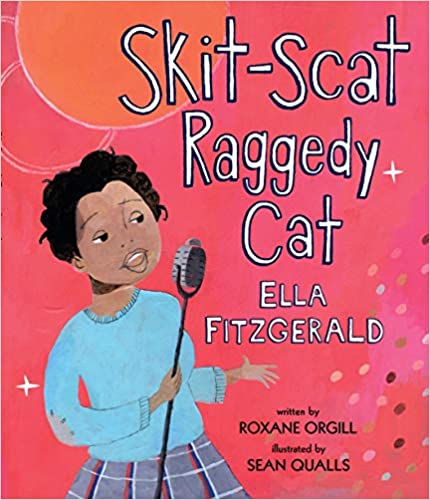 Skit-Scat Raggedy Cat: Ella Fitzgerald by Roxane Orgill & Sean Qualls
When Ella Fitzgerald danced the Lindy Hop on the streets of 1930s Yonkers, passersby said good-bye to their loose change. But for a girl who was orphaned and hungry, with raggedy clothes and often no place to spend the night, small change was not enough. One amateur night at Harlem's Apollo Theater, Ella made a discovery: the dancing beat in her feet could travel up and out of her mouth in a powerful song —and the feeling of being listened to was like a salve to her heart. With lively prose, Roxane Orgill follows the gutsy Ella from school-girl days to a featured spot with Chick Webb's band and all the way to her number-one radio hit "A-Tisket, A-Tasket." Jazzy mixed-media art by illustrator Sean Qualls brings the singer's indomitable spirit to life.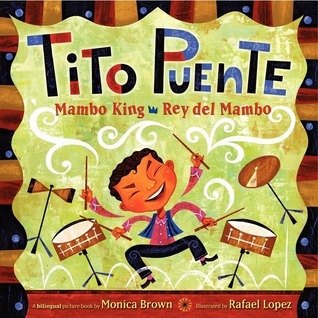 Tito Puente: Mambo King/Tito Puente: Rey del Mambo - Bilingual Spanish-English Children's Book by Monica Brown & Ragael Lopez
Ladies and gentlemen, boys and girls, clap your hands for Tito Puente... The Mambo King plays and sways and people dance the mambo, the rumba, and the cha-cha!
Damas y señores, niños y niñas, aplaudan a Tito Puente ... El Rey del Mambo toca su música y se balancea mientras la audiencia baila el mambo, la rumba y el chachachá!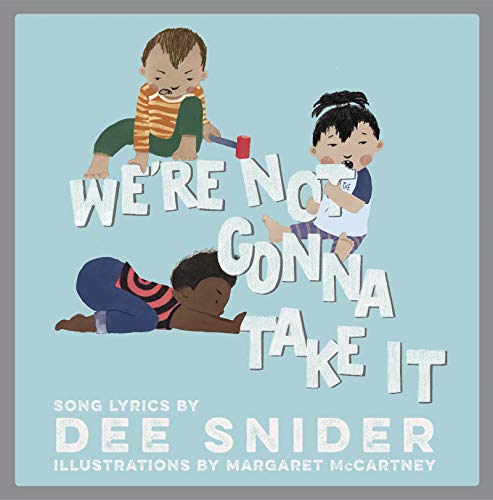 We're Not Gonna Take It by Dee Snider & Margaret McCartney
We're Not Gonna Take It is a playful picture book echoing 1980s hair band Twisted Sister's most popular antiestablishment anthem. As part of their triple-platinum album Stay Hungry, "We're Not Gonna Take It" spent fifteen weeks on the Billboard Hot 100 chart, reaching number twenty-one. With lyrics by Dee Snider and illustrations by Margaret McCartney, this picture book follows three toddlers on a mission to defy their parents, whether it be lunchtime, bath time, or bedtime. We're Not Gonna Take It is a story both parents and children can relate to, and a song they can enjoy together.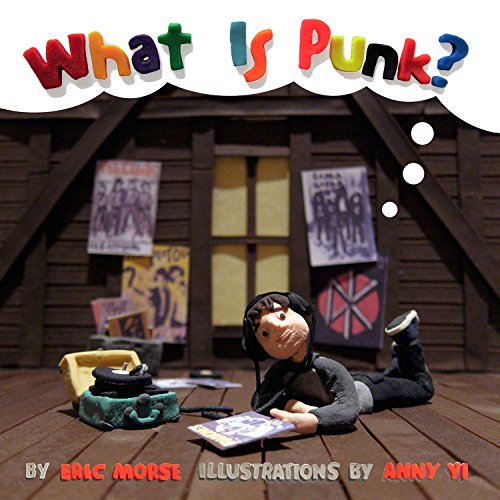 What Is Punk? by Eric Morse & Anny Yi
What Is Punk? is a must-read pop-culture primer for children--an introduction to the punk revolution, recreated in vivid 3-D clay illustrations and told through rhyming couplets. From London's Clash and Sex Pistols to the Ramones' NYC protopunk, from Iggy Pop to the Misfits, this volume depicts some of our culture's seminal moments and iconic characters. A delightful read for kids and parents alike, illustrated in a truly unique visual style, What Is Punk? lays the groundwork for the next generation of little punks.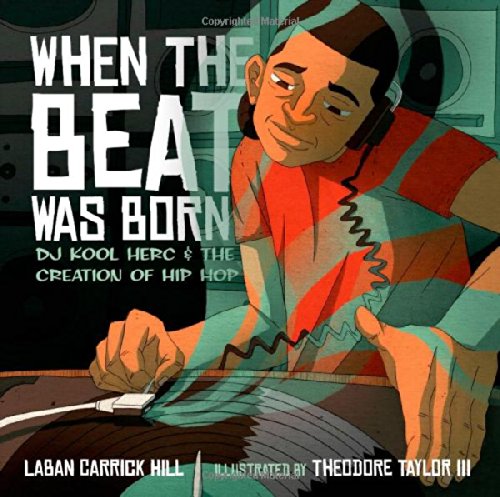 When the Beat Was Born:  DJ Kool Herc & The Creation of Hip Hop by Laban Carrick Hill & Theodore Taylor III
On a hot day at the end of summer in 1973 Cindy Campbell threw a back-to-school party at a park in the South Bronx. Her brother, Clive Campbell, spun the records. He had a new way of playing the music to make the breaks—the musical interludes between verses—longer for dancing. He called himself DJ Kool Herc and this is When the Beat Was Born. From his childhood in Jamaica to his youth in the Bronx, here's how Kool Herc came to be a DJ, how kids in gangs stopped fighting in order to breakdance, and how the music he invented went on to define a culture and transform the world.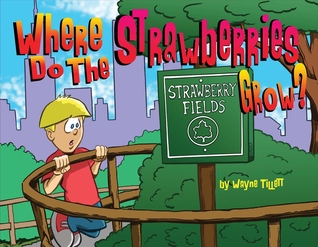 Where Do the Strawberries Grow? by Wayne Tillett
Join Billy and his dad as they take a journey through New York`s Central Park and the legendary life of Beatles front man, John Lennon. "Where Do The Strawberries Grow" is a richly colorful recounting of John`s life in a beautiful children`s book. Relive the amazing events; from his humble childhood in Liverpool, through his Beatles years, and beyond. This book will be a favorite of your whole family for years to come as you spread the message of "Love, Love, Love" to your children and grandchildren for the very first time.