Welcome to Your New Catalog
Posted on:

24 October 2022

By:

Amanda Campbell
How many times have you heard about a great new book, only to have to check 3 different places for library books and then dig through the search results for the right format? I am so excited to introduce you to our new catalog, Aspen Discovery, that will search all those places and more! Here are some sneak peeks at what you might discover.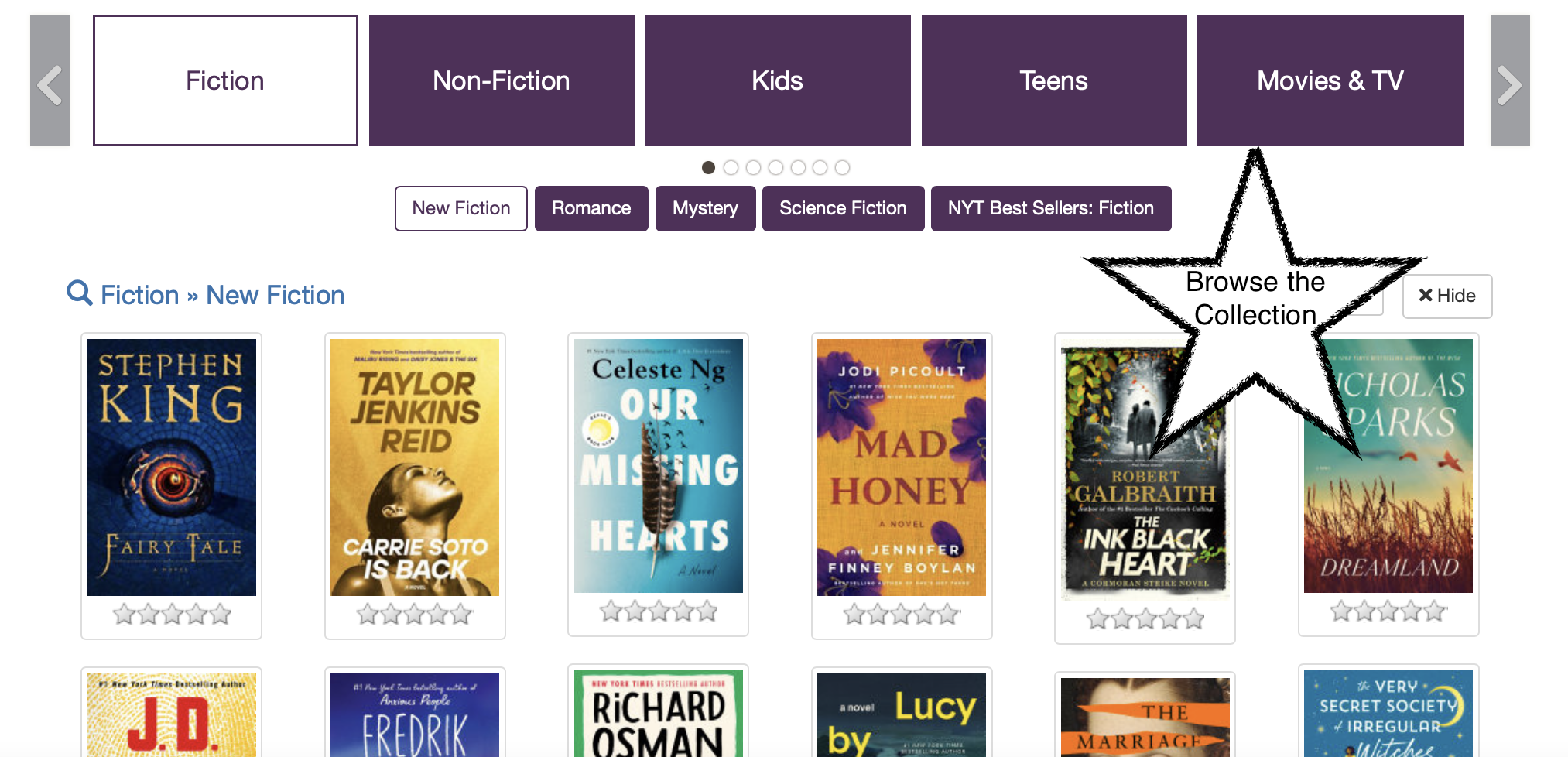 Reading Recommendations
Your friends are talking about the new Celeste Ng, but of course they're all checked out. Aspen can help you figure out what to read now. Place a hold to see three suggestions for what to read while you wait. None of those strike your fancy? See the links for series and lists to skim the rest of the NYT Bestseller list or check out other picks from Reese's book club. Still searching? Follow the link for Celeste Ng to check out her backlist (list of older titles). From the author page, you will also see a list of similar authors and why they're recommended for fans of Celeste Ng. Once you find something to read, check it out or place a hold right from the search results. Then come back and rate it for more recommendations!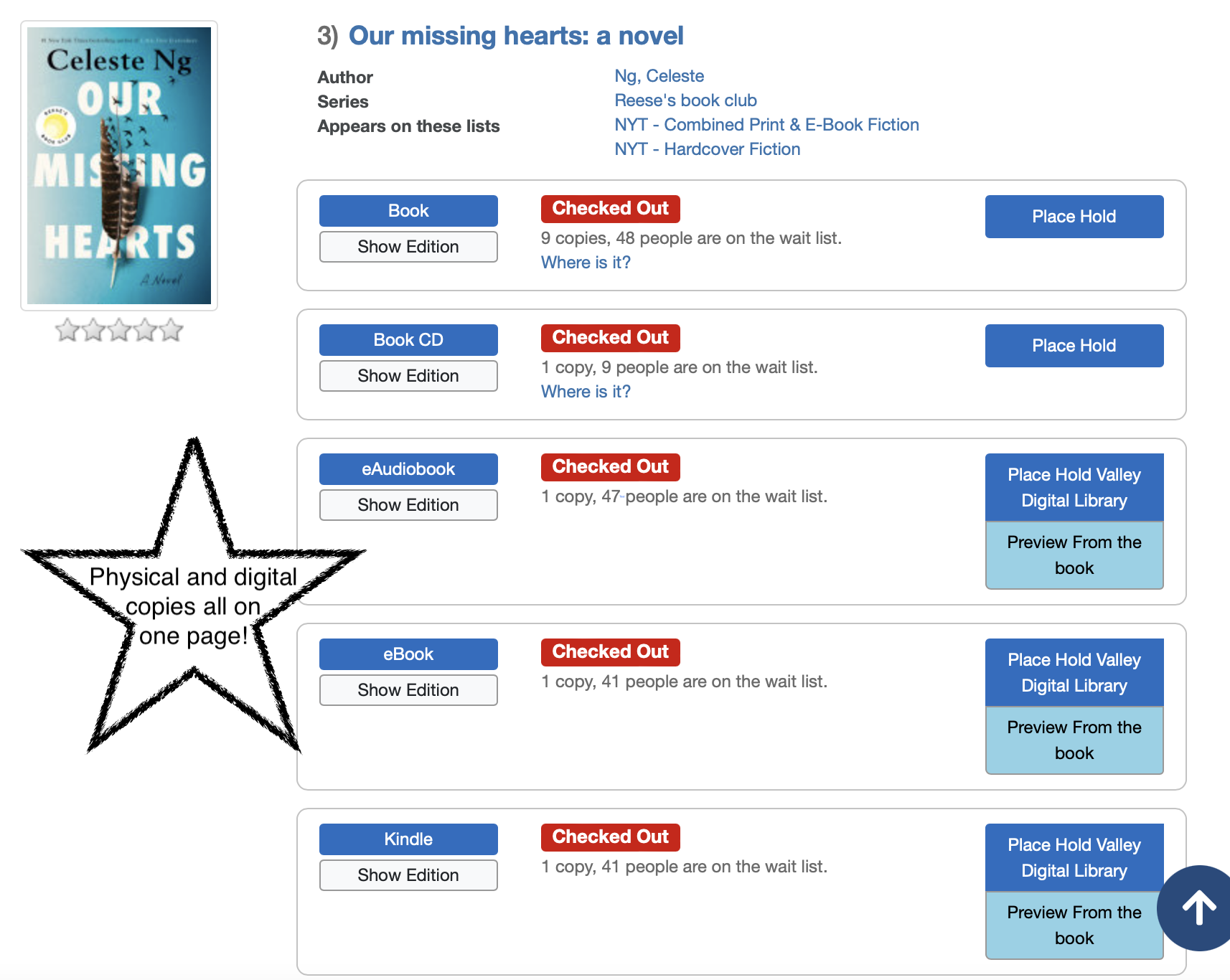 Learn Something New
The Library is a great place to discover new books to read, but we can also help you explore a new hobby or interest. I love bullet journals for organizing and self reflection, so let's see what we can find with a 'bullet journal' search.
The first result isn't a book to check out, but one of our great new online learning services. You can take a whole class on journaling and memoir writing! Below that, you will again see both physical and digital books to check out based on the search terms. If you don't see what you're looking for, you can filter by audience, fiction or non-fiction, subject, series, and more. Then we have an Explore More section with relevant resources from our website, events, and lists. The Bullet Journal Book Club link takes you to a library event. The club meets monthly to discuss how we process and journal about our reading. (Shameless plug: The next meeting is November 21st at the Madison Library!) The next result is a staff-curated list of books about journaling and covers bullet journals, nature journals, art journals, and hand lettering. Of course, I'm also into nature so those nature journaling books would send me down another rabbit hole of discovery! 
This is the public's library.
The Library's mission is to "empower individuals to create their own futures, explore the universe of ideas, and connect with our community and the world". I gush about all the things we offer to anyone who will listen, but I'm just one person. Finally, we have this great tool that encourages you to drive your own library experience. Expand your reading horizons through lists and recommendations, engage with your community by attending a library event or rating your favorite books, and manage checkouts and holds for the whole family all in one spot. The Library isn't just books any more and Aspen Discovery integrates everything in a user-focused design to bring the Library to you. It has been a long road getting here, and you can read more about the journey on Aaron's blog post.
What Now?
The good news is you don't have to wait long to see the new catalog. It will go live tomorrow (update: we are now live!) and uses the same link as the old catalog! Over the next few weeks, I'll give you a tour of your new account page and introduce you to more features to help you level up your library experience. All you need is your library card number and PIN/password. If you don't know your password and you have an email address on file, you can reset it directly in the catalog. 
Happy Reading!