Italian Chills and Thrills for Halloween
Posted on:

24 September 2020

By:

Robert Freese
Italian Chills and Thrills for Halloween
At one time, a great deal of films came into the United States for distribution to drive-ins from all over the world. Italy was one of the major countries to export genre films for double and triple features at ozoners across the country. For decades, Italian films of all types graced the giant outdoor screens, as well as hardtops, from the mid '50s through the early '80s, but where all but gone by the mid '90s.
I've had the great honor of interviewing legendary Italian screenwriter Dardano Sacchetti recently for the current Halloween issue of Rue Morgue (Sept/Oct 2020 #196) as well as the earlier Spring issue of Videoscope (2020 #114), magazines that focus on genre films. I also had the great pleasure of interviewing  his wife and writing partner of nearly fifty years,  Elisa Briganti for the upcoming issue of  Videoscope (2020, #115) and the Italian language genre magazine Nocturno (August 2020, #212).
Dardano and Elisa have written over 200 screenplays that have been produced since the early '70s for both film and television. Their work has been brought to life by such filmmakers as Mario Bava, Dario Argento, Luici Fulci, Lamberto Bava, Michele Soavi, Fabrizio De Angelis, Sergio Martino, Enzo G. Castellari and Ruggero Deodato, among many, many more. It's worth noting that when he was associated with Italian producer Dino De Laurentiis, Sacchetti not only wrote a sequel to the De Laurentiis produced Flash Gordon for Sam Jones to reprise the role of the galactic good guy, but he was also one of the first writers to adapt characters from Marvel Comics for early screenplays for Ghost Rider and Werewolf By Night.
Most fans of Italian horror know Sacchetti's work with Fulci, as they include all the classic films the director made from his scripts. (Titles include Zombie- 1979, City of the Living Dead- 1980, The Beyond- 1981, House by the Cemetery- 1981 and Manhattan Baby- 1982.) I also learned from Sacchetti that in 1979 he wrote a script that mixed science fiction with H.P. Lovecraft-type horror called Anomolia/Anomaly. He wrote it for Mario (Planet of Vampires- 1965, Bay of Blood- 1971) Bava to direct for drive-in producer Roger Corman. In his notes, Corman compliments the story and suggests they consider hiring an artist like H.R.Giger for production design. Ultimately, the film was abandoned after Bava suddenly passed away early in 1980. I was given the great thrill of translating the script and wrote about it for both Nocturno and the Videoscope website. Read the Anomaly article here.
This year I've also been able to interview Italian writer/director Luigi Cozzi (Star Crash- 1979, Alien Contamination- 1980)  as well as actresses Silvia Collantina (House by the Cemetery- 1981)  and  Mirella D'Angelo (Tenebrae- 1982, Hercules- 1983)  for interviews that will appear in genre magazines in the near future.  
Because of my current interest in Italian horror, I found myself searching through our collection for some material you might be interested in from the Huntsville Madison County Public Library system as well as Hoopla. Some of these have been mentioned on previous movie or book blogs, but this list expands to include items I recently found for patrons with a taste for Italian chills during their October festivities this year.
Demons- 1985 (Hoopla)
Quite simply, the best movie ever made about demons coming out of a horror movie and terrorizing the audience trapped in the theater with them. Written by Sacchetti, produced by Argento and directed by Lamberto Bava, it is a fast paced, graphic people vs demons story with a great 80's heavy metal soundtrack. Motorcycles and a helicopter are thrown in for good measure. This is one of my favorites.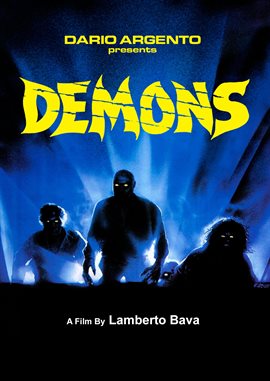 Cat O'Nine Tails- 1971 (HMCPL system)
This mystery, an Italian "giallo*," concerns a young reporter and retired blind reporter teaming up to solve a string of murders. This thriller has a number of striking images and tense scenes that will keep you on the edge of your seat until the final revelation of the killer's identity. Written by Sacchetti and directed by Argento. A classic of the genre and based on Sacchetti's first produced script. *Giallo is the Italian word for "yellow" and a reference to the popular series of mystery novels that all had easily recognizable yellow covers.
Black Sabbath (I tre volti della paura)- 1963 (HMCPL system)
This horror anthology from Mario Bava is a striking collection of horror short stories brought to life with Bava's visual brilliance. Boris Karloff acts as playful host as well as main character in the vampire entry, The Wurdulak. The Telephone and The Drop of Water episodes are good for a fistful of creeps. I highly recommend this one.
Kidnapped- 1974 (HMCPL system)
This taut thriller is one of Mario Bava's finest. The plot involves innocents taken hostage by a group of psychos, but more is going on than any of them know. This film started life under the title Rabid Dogs and remained unfinished after Bava's death in 1980 until his son Lamberto Bava finished it and released it as Kidnapped. It is a magnificent thriller.
Deep Red- 1975 (Hoopla)
Deep Red is one of Argento's most popular thrillers and a great mystery with more twists and turns than a bag of pretzels. An English musician in Rome witnesses a murder and teams up with a reporter to try and solve it. So many harrowing scenes of suspense punctuated with stylish moments of graphic mayhem prompt many Argento fans to claim this as their favorite of his giallo efforts. It features David Hemmings and Daria Nicolodi.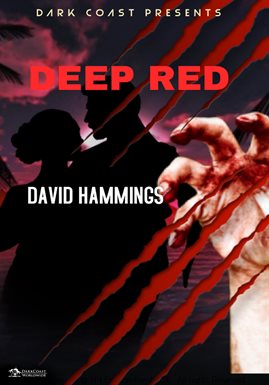 Cemetery Man- 1994 (HMCPL system)
Rupert Everett is harried cemetery caretaker Francesco Dellamorte, who has to make sure anyone who leaves their grave gets put back into the ground before the people of the nearby city learn that "walkers" exist. Simply one of the most entertaining zombie movies ever made. If you don't agree with me, I would bet you've not seen it. It is directed with great comic-book style by Michele Soavi. The film is based on the novel Dellamorte Dellamore by Tiziano Sclavi and also takes inspiration from the Italian comic book Dylan Dog. (It was adapted into a film starring Brandon Routh and released in 2011. and available from the HMCPL system: Dylan Dog from HMCPL.)
Sicilian Ghost Story- 2017 (HMCPL system)
A blend of crime, drama and fantasy sees young people lost in a haunted Sicilian forest. It is based on a true story from 1993. I've not seen it, but I doubt the thrills are derived from Paranormal Activity-type scares. It is from directors Fabio Grassadonia and Antonio Piazza.
Sicilian Ghost Story from HMCPL
Suspiria- 2018 (HMCPL system)
This is not the classic film about a dance school run by witches by Argento, but a re-imagining of the same story. I'm hesitant to watch it because I love the original, but some people really enjoy this one. The Blu-ray is available in the system. It was directed by Luca Guadagnino.
Ennio Morricone Soundtrack- An Ennio Morricone-Dario Argento Trilogy (Hoopla)
Ennio Morricone is no doubt one of the greatest composers for movie music in the history of cinema. His themes have enriched literally hundreds of films of all types. Among Morricone's horror and thriller scores, this compilation includes tracks from three of the giallos he scored for Dario Argento, The Bird with the Crystal Plumage, Cat O'Nine Tails and Four Flies on Grey Velvet.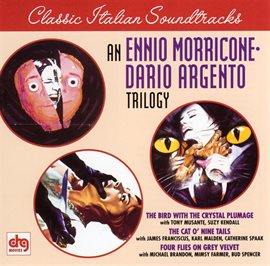 An Ennio Morricone-Dario Argento Trilogy from Hoopla
Ennio Morricone- John Carpenter's The Thing (Soundtrack)- 1982 (Hoopla)
Morricone scored Carpenter's classic tale of a shape-shifting alien coming to Earth and getting blasted back into the cosmos courtesy Kurt Russell. The selections recreate the arctic cold of the film's setting and build to the film's final human vs alien stand-off.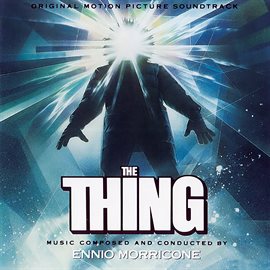 Ennio Morricone soundtrack for The Thing from Hoopla
Classic Italian Soundtracks - The Horror Film Collection- 1995 (Hoopla)
Tracks include selections from such Italian horror films as The Psychic- 1977, Crypt of the Vampire- 1964, Deep Red- 1975, The Bloody Judge- 1970 and Planet of the Vampires- 1965, among others. The various artists include Marco Werba, Bruno Nicolai, Giorgio Gaslini, Franco Bixio, Fabio Frizzi, Vincenzo Tempera, Carlo Savina, Gianni Ferrio, Piero Piccioni, Gino Marinuzzi, Jr. and  Riz Ortolani.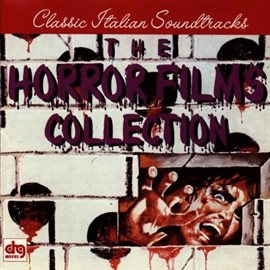 Classic Italian Soundtracks- The Horror Film Collection from Hoopla
Danger: Diabolik by Leon Hunt- 2018 (Hoopla)
From the Cultographies collection available from Hoopla, which I talked about in a previous blog (Cultographies blog), this is a fascinating look at Mario Bava's adaptation of Italian fumetti (comic book) anti-hero Diabolik. Well worth a read, especially if you are interested in how comics are adapted to film in an attempt to please fans and a general audience.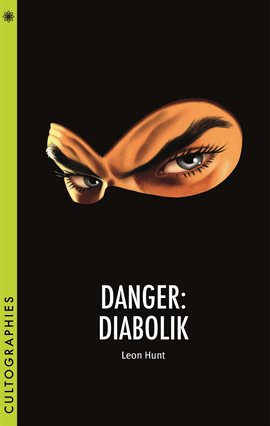 Cultographies- Danger: Diabolik from Hoopla
Deep Red by Alexia Kannas – 2017 (Hoopla)
Another from the Cultographies collection, this time a deep dive into Argento's Deep Red. This is the next Cultographies selection I plan on tackling.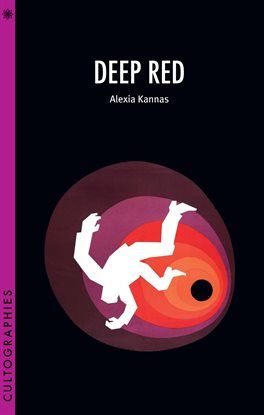 Cultographies- Deep Red from Hoopla
Beyond these horror films and thrillers, the HMCPL system offers more films, including many classic Italian made  Westerns and Dramas (many from director Sergio Leone) as well as  Poliziotteschi (police thrillers) from our International Media Center (IMC) and more soundtracks from the Italian masters to be discovered and enjoyed on Hoopla.
I will be back next week with more Halloween films to highlight from both the HMCPL system and Hoopla.